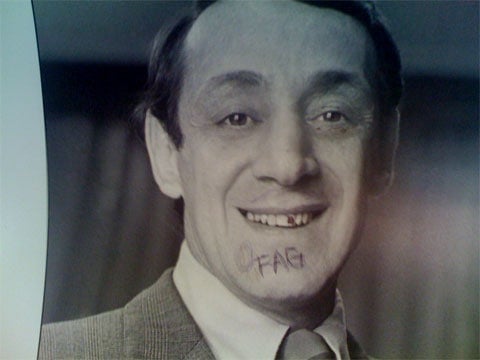 San Francisco Municipal Railway Streetcar No. 1051, which was dedicated to slain supervisor and gay rights pioneer Harvey Milk in October, and restored to the way it looked when Milk was elected to the Board of Supervisors in 1977, was defaced with anti-gay graffiti sometime in June.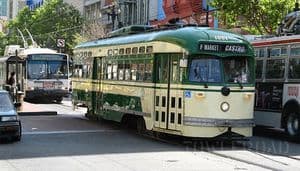 City officials did not learn about the graffiti, which is pictured here, until last week. Streetcar 1051 was also featured in the movie Milk.
Transit agency officials were alerted to the graffiti by director of the nonprofit Market Street Railway Jamison Wieser, who uploaded these photos to his Flickr account. Market Street Railway helps restore the railway cars, according to the Bay Area Reporter.
"Tom Nolan, the transit agency's openly gay chairman, called
Muni executives as soon as he learned about the graffiti from the B.A.R.
He said he finds it concerning that no one reported
the homophobic graffiti and that it was allowed to remain in public view for
the last six weeks. 'Graffiti itself is not extraordinary over there. In
fact there is a great deal of it and it costs us hundreds of thousands of
dollars to remove it. But I would think if there are homophobic slurs they
would let the chairman of the board who is gay know about it,' said Nolan,
the executive director of Project Open Hand and a former San Mateo County
supervisor."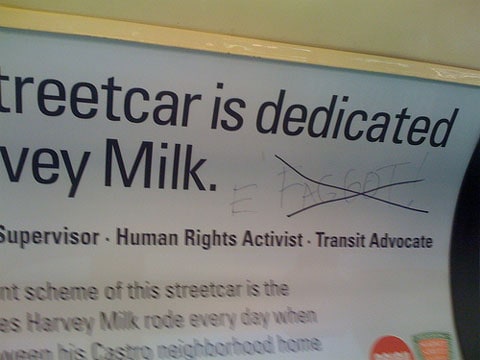 Milk Trolley Hit with Graffiti [bar]
(image soure – flickr user jamison)