UPDATE: see below.
Tim Hortons, the coffee and doughnut chain which is the largest food service operator in Canada (exceeding McDonald's) and has outlets in the northeast U.S., is under fire for its sponsorship of 'Rhode Island's First Annual Celebrate Marriage & Family Day' being produced by the National Organization for Marriage.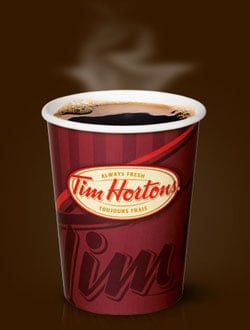 NOM's site on the event reads: "The highlight of the Sunday afternoon event will be an opportunity for married couples to renew their vows together at a beautiful waterfront setting.
This is a great opportunity to take a stand for marriage as it was created: between a man and a woman. Our goal is to esteem marriage to its proper place in society and make a statement that Rhode Islanders believe strongly in this cherished institution."
Providence Daily Dose is steaming: "What in the world are they doing sponsoring something like this? Their site says that they support 'local initiatives that make a difference' — such as little leagues, Halloween safety, and the like. And that they sponsor community initiatives with a focus on 'helping children and supporting fundraising events for non-profit organizations and registered charities.' But not 'those representing religious groups [or] political affiliates,' such as.. well, how would you characterize a group like NOM?"
PDD says Tim Horton's has 36 Rhode Island locations, and a  customer service website.