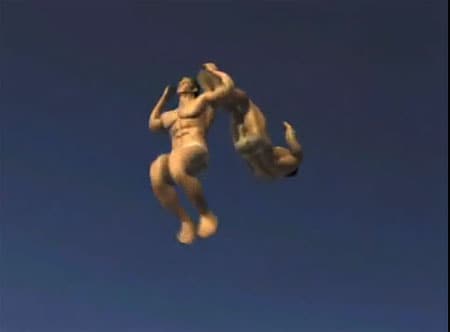 UPDATE: Apologies – I had the wrong clip in there for a bit.
I think it's time to develop this for the Wii. You may have heard about the Japanese obsession with adult film star Billy Herrington.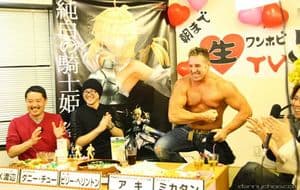 He's become something of a cult pop culture and anime figure in that country: "Herrington has also become an internet meme among the Japanese community after a clip from one of his videos 'Workout' was posted on Nico Nico Douga, a Japanese video sharing website.Over 3000 parody videos of him have been made, many of which utilizes deliberate mishearings of his lines in the porn flick. He is affectionately called 'Big Brother' among the Nico Nico Douga community, and most of his videos are deliberately tagged with 'Forest Fairy', 'Philosophy' or both."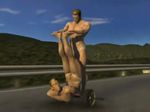 Here's the latest clip (in the form of a video game trailer)  to turn up on YouTube, with this plot synopsis:
"Deep in the forest lived Billy and his charming companions. Theypeacefully honed their bodies and listened to music there. But a waveof development came upon the forests. One who would turn all to road.Kagamine Rin had come. Billy must stop the construction before all isturned to road."
Watch it, AFTER THE JUMP…
(via buzzfeed)

Apologies – I had the wrong clip in there for a bit. Warning: Probably NSFW.
Note: In many of the videos, baby faces are used to cover up Herrington's private parts. I have no idea why.