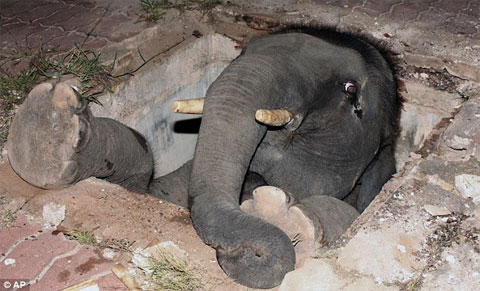 A young elephant used in the tourist entertainment trade fell into a manhole in eastern Thailand's Rayong province earlier this week and had to be extracted using a power shovel and a harness. Ugh:
"Rescuers spent three hours freeing the elephant, who was unharmed, by using a bulldozer to widen the hole.While elephants are used to move large heavy objects in Thailand, many of the animals in Rayong province are trained to carry tourists on elephant treks through the jungle.Mahouts also use elephants to beg on the streets of many large Thai cities and baby elephants, with their cute eyes and hairy heads, are among the most sought after.Baby elephants are often taught tricks to appeal to tourists and, although it is illegal in many cities, work the streets with their owners from early in the morning to late at night.Mahouts control the elephants using a small number of commands and a sharp hook, known as an angkus."
Raw video, AFTER THE JUMP…
Poor thing. You can just see the terror in its eyes at 3:30.