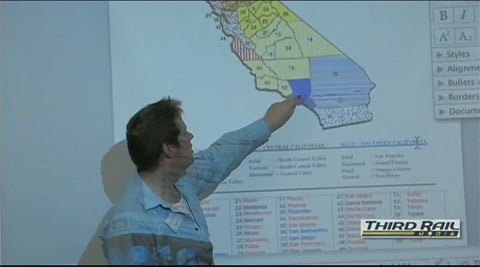 Here's an interesting podcast about a Boot Camp for civil rights activists that took place on the USC Campus last weekend which consisted of a number of discussion groups and workshops intended to train activists for campaigning for marriage equality in California.
Nancy Pelosi's daughter Christine and Reverned Eric Lee were the Boot Camp's keynote speakers.
Watch the podcast, AFTER THE JUMP…
ON ANOTHER NOTE, MAINE:
Have Boot Camps such as these taken place in Maine, where a marriage equality ballot measure looms? One would hope.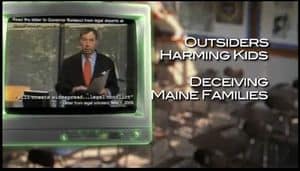 Following the release yesterday of an ad from Protect Maine Equality in response to a fearmongering ad from the marriage equality foes, Californians Rex Wockner and Mike Tidmus both spoke out, saying they feel that Maine is making the same mistakes with their advertising that the "No on 8" people made.
Said Wockner of Protect Maine Equality's ads: "They are not hard-hitting. They are high-minded concept ads. They are arepeat of No on 8's mistakes in California. The 1st ad … is decent,showing a real gay family and speaking some truth. But overall: Rebootnow. 33% is a failing grade. The folks who ran No on 8 in Californiawere timid and, at the same time, stubborn. Gays lost marriage inCalifornia when they lost the $80 million TV-ad war. The fall season isupon us. No more reruns."
Phillip Minton of Unite the Fight agrees: "Sticking to 'outsiders are going to ruin Maine' theme isn't going to work if Mainers agree with the outsiders. And believe me, plenty do! Weneed to kill their arguments before they even voice them. We need totell Mainers, 'You're going to hear that marriage is going to be taughtin schools, but you have the power to decide that yourself in yourdistricts. You're going to hear that your church is going to be sued,but you already have protections in place by law. The other side isgoing to try and confuse this issue, to state things that are not inthe law. They want to mislead you. They will lie to you.'"
Says Tidmus: "If Protect Maine Equality No on 1is going to win, they're going to have to grease up, get down deep inthe mud, and wrestle every bit as dirty as NOM's Maggie Gallagher andMark Mutty of Stand for Marriage Maine, neither of whom seemsconstrained by that whole not bearing false witness thing."
So what do you think about Maine's ads (their first two are here, the others linked above) and is there something essentially different about the fight for marriage equality on one coast than on the other?
Watch the California Boot Camp podcast, AFTER THE JUMP…