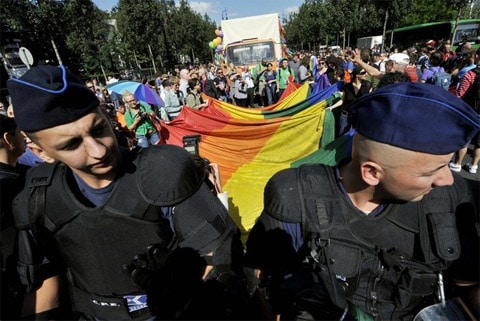 A Gay Pride march in Budapest on Saturday was spared the violence it has seen in years past thanks to a massive security force which kept extremists at bay, UK Gay News reports: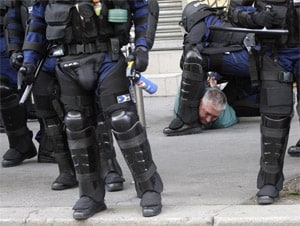 "Neo-Nazi's and other extreme right-wing groups had threatened to disrupt the march. But, while there were a few scuffles for the police to deal with, they were at least 100 metres from the route of the march. There was, however, a 'price to pay', apart from the nervousness of the Budapest gay community. There were no onlookers and well-wishers along the route which was cordoned off a block each side of Andrássy Road, one of the main streets of the city. So the 'Gay Dignity' march became more of a TV event, as far as any campaigning directly to the public for LGBT rights is concerned. And TV news later in the day covered the march in considerable depth. "
Europe World News reports that there were a few incidents security had to deal with: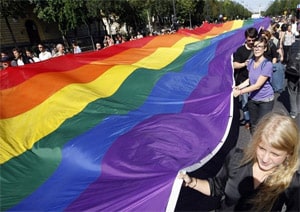 "Riot police were able to quickly disperse the several hundreddemonstrators through sheer force of numbers and the occasional volleyof tear gas. During one fracas, an English man was punchedafter getting into a row with a group of some 20 anti-gay protestors,police told the local news agency MTI. Riot police broke up the altercation, and the man was taken away for medical attention. Asixty-year-old man among the anti-gay demonstrators was knocked down asthe crowd was pushed back by riot police, and had to be taken bystretcher to an ambulance."
Early last week, Whoopi Goldberg taped a message of support to the LGBT  people of Budapest. Watch it, HERE.
A video clip showing riot police staged near the Oktogon station of the Budapest metro, AFTER THE JUMP…