South Carolina Lt. Governor Andre Bauer was asked by SCBD Charleston about rumors he is gay.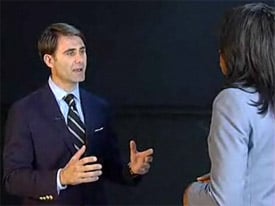 Said Bauer: "I don't think it's a proper question. I think it's a little bit ridiculous and it'ssad that politics has gotten to that. But if somebody had a question I don't have a problem with going ahead and airing it and getting it out of the way because I don't want that to linger, much like this other problem is lingering. I want to move forward. I want to talk about real issues, how to get improved job growth. How you get education to a better level than it is now, how you fix the budget problem that we've got — not continue to dwell on some silly question in the first place."
Blogger/activist Mike Rogers, who has a long record of accuracy on outing hypocritical politicians, recently said Bauer was gay on Michelangelo Signorile's Sirius radio show. State Senator Jake Knotts claims the rumors are a part of a smear campaign by sitting governor Mark Sanford.
Should Sanford step down in the wake of his extramarital affair scandal, anti-gay Bauer is poised to take his role.
Watch the interview, AFTER THE JUMP...