UPDATED
Fearing that unpopular New York Governor David Paterson's presence at the top of the ticket could drag down Democratic candidates statewide, the White House has asked Paterson to step aside and not run in 2010. Paterson, at least for the moment, has rebuffed that request: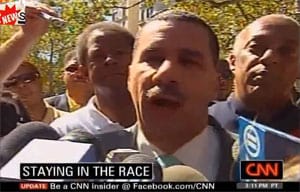 "Asked how he would run as a Democrat without White House support,Mr. Paterson said, 'I am running for governor right now. I have no idea— I am a candidate for governor.' … 'I have had a number of different conversations with a number of different people,' he added. 'They are confidential.' Still,even as Mr. Paterson publicly vowed to continue, two prominentDemocrats who had spoken to him over the weekend described him asmulling his options and open to the possibility of withdrawing. The twospoke on condition of anonymity because the conversations were intendedto be confidential. News that the White House had involved itselfin the governor's contest in New York set off wide-ranging reaction onSunday, and Mr. Paterson's aides seemed shaken that the discussionswith the White House had become public. The plan to appeal to Mr. Paterson to step aside was proposed by the president's political team and approved by Mr. Obama."
Watch Paterson discuss his intentions, AFTER THE JUMP…
UPDATE: Obama arrives in Albany to awkward hug from Paterson. RNC Chair Michael Steele injects race into the decision.