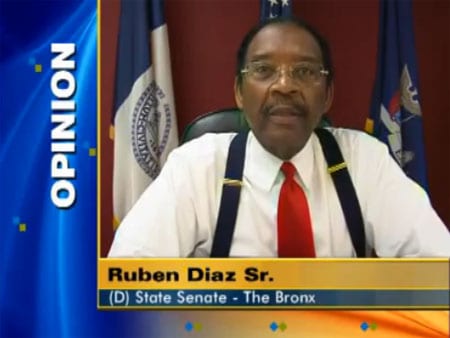 Homophobic state Senator Ruben Diaz Sr. (who has rallied clergy against same-sex marriage and fought tooth-and-nail against it in negotiations with party leaders) recorded a video for New York local station NY1 calling out Mayor Michael Bloomberg for obstructing marriage equality in the state by appealing a 2005 court decision declaring the same-sex marriage ban unconstitutional.
Diaz Sr. calls Bloomberg's decision to use marriage equality as a key reelection issue "pure hypocrisy."
Says Diaz: "I think that the gay community should be angry at Mayor Bloomberg and don't support him, because if they are not getting married it is not because Senator Ruben Diaz, it is because Michael Bloomberg stopped YOU from getting married. So don't get angry at me, get angry at Michael Bloomberg."
Diaz has likely done more to stop marriage equality from happening in New York than any other politician in the state. What a joke.
Watch, AFTER THE JUMP…