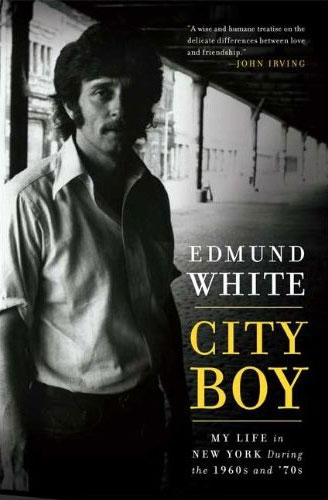 City Boy
,
Edmund White's new memoir of life in New York around the time of Stonewall gets a review in the NYT.
Writes White: "I was a living contradiction. I was still a
self-hating gay man going to a straight psychotherapist with the
intention of getting cured and getting married. There was no
'gay pride' back then — there was only gay fear and gay isolation and
gay distrust and gay self-hatred."
From Dwight Garner's review:
Orgies; leather bars; tabs of LSD; sex on the balconies of gay dance
halls, in the abandoned piers along the Hudson River and in the dunes
on Fire Island;
group sex with American Indians and Norwegian flight attendants from
Minnesota — it's all here in exacting and eye-popping detail. He
captures the "odor of brew, harness, sweat and Crisco" that began to
fill gay men's nostrils in the mid-'70s.
Mr. White was a kind
of sexual werewolf. As midnight approached, he says, "my hands began to
sprout hair, and my teeth to sharpen." He sleeps with so many
well-known writers and artists that this crackling if lightweight
memoir can read less like a prelude to "And the Band Played On," Randy
Shilts's stately book about the early days of AIDS, than an all-boy
update of "I'm With the Band," Pamela Des Barres's trippy and
picaresque rock groupie memoir.
He describes a quickie with the travel writer Bruce Chatwin here; a three-way with the poet John Ashbery
there. The notches Mr. White claims on his bedpost are vast and
crisscrossing, and he likes to run his fingers along them in wistful
horndog memory.
Sounds like a page-turner.
Also of note: Marriage equality supporter and devoted fan John Irving supplies the book's cover blurb: "A wise and humane treatise on the delicate differences between love and friendship."
City Boy [amazon]