Elton John and David Furnish say they want to adopt a Ukranian child named Lev (below)they met while on a recent orphanage tour in the town of Makeyevka outside Donetsk: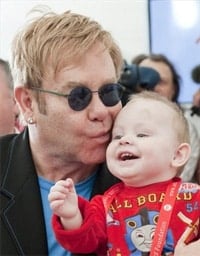 "The singer told reporters in Ukraine on Saturday that Furnish has
long wanted to adopt a child but that he was reluctant until he met Lev
at an orphanage where many of the children's parents have died from
AIDS. 'David always wanted to adopt a child and I always said
'no' because I am 62 and I think because of the traveling I do and the
life I have, maybe it wouldn't be fair for the child,' John said. 'But
having seen Lev today, I would love to adopt him. I don't know how we
do that but he has stolen my heart. And he has stolen David's heart and
it would be wonderful if we can have a home. I've changed my mind
today.' He acknowledged bureaucratic hurdles may make adoption of a Ukrainian child impossible."
Elton was visiting and performing at the orphanage as part of the work he does for the Elton John AIDS Foundation.