Rep. Steve King (R-IA): Same-sex marriage part of push for socialism.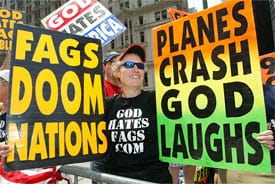 UN to get visit from WBC.

DreamWorks and Showtime to chronicle development of a Broadway musical, from inception to opening night: "Producers Craig Zadan and Neil Meron, who are well versed in adapting tuners for the big- and smallscreen, are in negotiations to join the project, as are tunesmiths Marc Shaiman and Scott Wittman. DreamWorks TV toppers Justin Falvey and Darryl Frank are shepherding the project with Spielberg."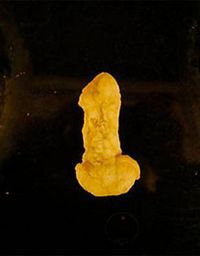 Today in deep-fried pareidolia.

Celebrities band together to protect insurance companies.

Two popular gay venues in Sydney to close — The Midnight Shift and The Flinders Hotel.

AfterElton talks to Modern Family's gay dads, Jesse Tyler Ferguson and Eric Stonestreet.

Joy Behar to Ukraine: Let Elton adopt.
"Mr. Pavlenko, here are some tips about family, youth and sports.
Family doesn't mean a huddle of orphans sharing a few soiled
mattresses, it's not youth if you die of AIDS before you reach
kindergarten, and wrestling over dinner scraps is not a sport. But that
could be Lev's fate now, because the Ukrainian government said
Elton and his beau David Furnish are too old to adopt the boy. It
sounds like the real reason is they're too gay."

White House to see picket line on weekend of National Equality March?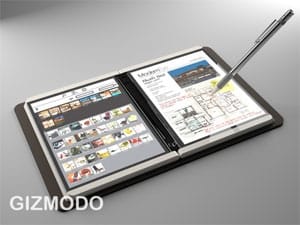 Courier: Microsoft's tablet computer?

Neil Patrick Harris lights up for new photo shoot.

Orange County Board of Education opposes 'Harvey Milk Day': "The addition of
commemorative exercises reduces important classroom time in core
subject areas. Instructional time is at a premium and students cannot
afford to lose quality educational time."


Tom Ford seeks $50 million investment.

Man gets life sentence for gang rape and murder of South African lesbian track star Eudy Simelane: "Ms Simelane was approached after leaving a pub and robbed of her mobile, trainers and cash. She
died from wounds to the abdomen after being gang raped and stabbed 12
times. Her naked body was dragged towards a stream and dumped." Two others were acquitted.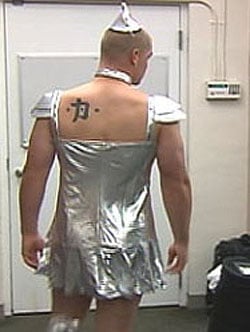 Boston Red Sox rookies hazed in drag.

70th anniversary: The history and promises behind The Wizard of Oz. "What's also rather striking, especially considering its suffragette
heritage, is the way the film and Garland became such an iconic part of
the gay movement. I'm not going to pretend that I know very much about
the current iconography within the gay and lesbian community, but I
know that the film used to represent acceptance and a fervent belief that things could (and would) be better."

John Travolta takes the stand in extortion trial.

Trial underway for gay Salt Lake City man beaten by his neighbors after removing their children from a rowdy party they were having: "She claimed the children
were in and out of Latu's home during the party and said the parents
were guilty of child neglect. 'No one was supervising these kids,'
Gustin told jurors. She suggested that when Latu found her daughter and nephew missing, 'she needed someone to blame' and picked Bell. Bell was dragged from his home by his then-shoulder length hair and
his head was repeatedly smashed against the pavement, Gustin said.
Blood was oozing from his right ear and he still suffers hearing loss,
she said. Someone used a piece of broken glass to cut Bell's throat, chest and one of his toes. Bell's partner, Fair, also was beaten, and a large TV was thrown onto his head."