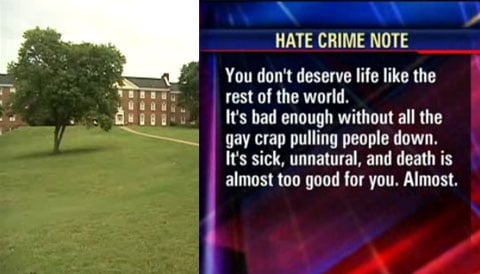 A student on the campus of Guilford College in Greensboro, North Carolina was threatened last week:
"On Monday, a student found a note on his door that had a death threatand called him a derogatory name. The note also said 'nobody wants yourkind on campus.' On Thursday, someone dropped a rock with a letter attached in the samestudent's window. The note used the same derogatory name and also said: 'You don't deserve life like the rest of the world. It's bad enoughwith out all the gay crap pulling people down. It's sick, unnatural,and death is almost too good for you. Almost.' The dean of students who live in Bryan Hall informed students about the hate crimes during a meeting on Friday."
Students are reportedly organizing a march on campus for this Wednesday in response.
Watch MyFox8's news report on the incident, AFTER THE JUMP…