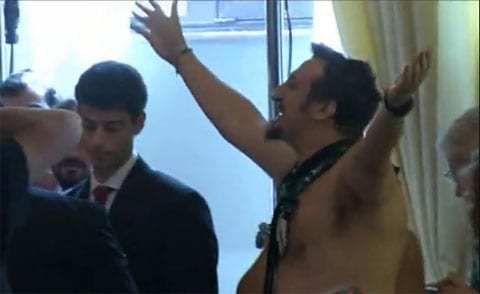 UPDATED: WITH VIDEO
At a press conference at the Venice Film Festival for his new film, The Men Who Stare at Goats, George Clooney was reportedly hit on by a man stationed among reporters.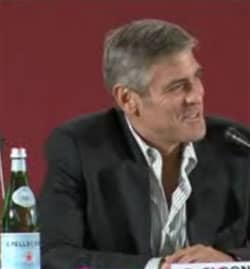 Reuters reports: "Today's press conference involving George Clooney and Ewan McGregor, who star together in the comedy 'The Men Who Stare at Goats' was more embarrassing than usual, however. After tactfully avoiding a question about his sexuality, Clooney then looked on while a man, announcing he was gay, proceeded to take of his shirt and trousers while declaring his love for the actor and asking him for a kiss. To make matters worse, he had not even seen the film.Clooney's response? 'There's a little ambulance on its way.'"
Another account: "The man, wearing only a black tie around his neck, asked Clooney whether he and Ewan McGregor, his co-star in the film The Men Who Stare at Goats, had intentionally played 'queer' roles.He then shouted: 'Because I'm gay George. I want you George! Come with me George!' amid laughter and boos from other conference participants.Clooney smiled wrily, and remarked how some people take a 'big chance' only that 'it doesn't really work.' Then addressing the man he added: 'But that's a very good tie.'Earlier at the news conference, which had been billed as open only to accredited media and film industry personnel, Clooney drew admiring comments from several female participants."
Video, AFTER THE JUMP...