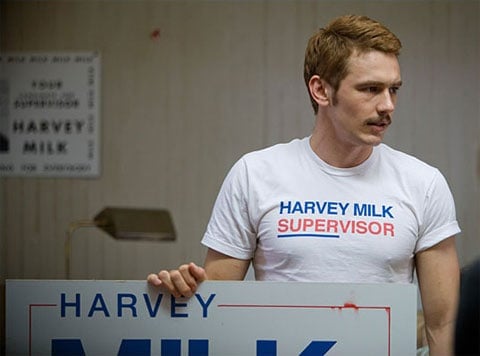 He should know a thing or two about it.
NYU Local reports: "James Franco is taking Queer Cinema, an undergraduate course in the Tisch Cinema Studies department. Franco was said to have set off a mild frenzy when he showed up at the department floor. His name is on the roster as James Edward Franco, though we're told he already missed his first class. Franco – get it together."
Some syllabus highlights:
Week 1: "You Don't Know Dick: The Courageous Hearts of Transsexual Men" (1997 documentary)
Week 2: "Mom's Apple Pie: The Heart of the Lesbian Mothers' Custody Movement" (2006 documentary)
Week 3: "Loads" (12 minute film from 1971)
Week 7: "Bottom Values: Anal Economics in History of Black Neighborhoods" and "When are Dirty Details and Scenes Compelling? Tucked in the Cuts of Interracial Anal Rape," both readings pulled from Kathryn Stockton's book, "Beautiful Bottoms, Beautiful Shame.
Wonder if Milk's on the agenda?