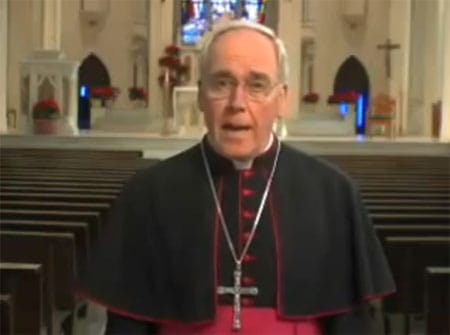 A complaint by Fred Karger of Californians Against Hate regarding Stand for Marriage Maine's disclosure of donor names has been rejected by the Maine Ethics Commission:
"The recommendation goes to the five-member commission, which votes Thursday on whether to launch an investigation. Karger…says groups contributing to the Stand for Marriagecampaign are not reporting the names of many donors as the lawrequires. Stand for Marriage is leading the push for a people's veto ofMaine's gay marriage law Nov. 3. Ethics commission ExecutiveDirector Jonathan Wayne said Tuesday the staff didn't think Kargerpresented enough evidence supporting his claims to justify aninvestigation."
Help Protect Maine Equality HERE.
In related news, Catholic Bishop Richard Malone's (above) request that every Catholic Mass across the state play a video "homily" asking churchgoers to fight against marriage equality was the subject of one editorial in the Portland Press Herald  from a dissenting Catholic:
"This intrusion leaves me and other Catholics who have very realdisagreements with the bishop's position (many Catholics believe thatall discrimination is injustice), and with his making the same-sexmarriage issue a priority (of all the places the bishop could beinvesting his time, energy, and resources), with few options if we areto act as our consciences would dictate. As a Catholic whose conscience directs me to resist the bishop'scampaign, my choices were to either not attend Mass on the Sunday thatthe video was shown, or to demonstrate my dissent in some way thatwould necessarily disrupt a time of prayer and communion (by walkingout during the Mass, for example)."
Watch Malone's "homily", AFTER THE JUMP…
(clip via leave it to seaver)