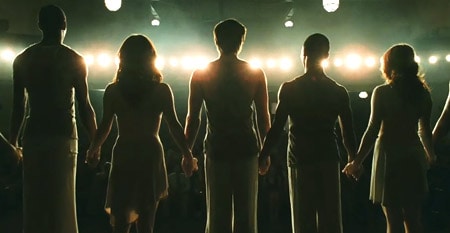 Nathaniel Rogers would live inside a movie theater but for the poor internet reception. He blogs daily at the Film Experience.
YOUR FEATURE PRESENTATIONS

The theme song sounded like wishful thinking at the time but some dreams do come true. FAME! It really *is* going to live forever. The Fame franchise (what else is it at this point?) began life as a gritty teen drama with music in 1980. It morphed into a family-friendly Emmy nominated television series from 1982-1987 spawning vinyl albums (oh, nostalgia) and tours. Eventually there was an Off Broadway reinterpretation and now, as is de rigeur in Hollywood, a "reboot" with the same performing arts nyc high school setting albeit new characters and teachers (including Broadway/TV great Bebe Neuwirth and "Karen" herself Megan Mulally)
The desperately eager performing teen genre didn't begin with Fame (unless there's a lost classic of the same name starring Mickey Rooney & Judy Garland disintegrating in some basement somewhere) but in the age of the endlessly looping American Idol — how many seasons now? will we ever be free of it? — it's dancing around the cafeteria and spilling out into the streets again. The question has to be how many of these performing teen shows/movies/concepts can audiences get it up for in a row? This decade has been bursting with them: Glee, Drumline, Step it Up, Center Stage, Save the Last Dance, Hairspray, numerous other titles we've forgotten, etcetera…
Speaking of longevity… Bruce Willis is back, reuniting with his soul mate (The Action Flick) for Surrogates in which people live through younger hotter mechanized versions of themselves, free from their human frailties… until someone starts killing the machines. Which do you prefer: Mechanically smooth young Bruce or real grizzled Bruce?
MORE, AFTER THE JUMP…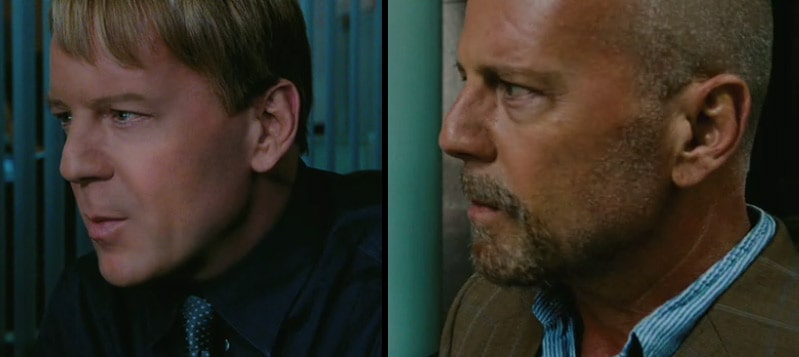 I'm all about the real (oh, daddy!) when it comes to Bruce. I do not like this Bruce-with-hair.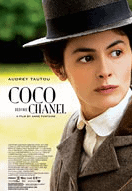 Also opening today (links go to trailers): Coco Before Chanel starring Audrey "Amélie" Tautou as the influential designer in the days preceding her global fame. This limited release eye candy, undoubtedly setting its eye on a few Oscar categories, also features Alessandro Nivola speaking French… which puts me in a very Gomez/Morticia place (Je l'aime) if you know what I mean. There's also Blind Date with two of our very best actors Stanley Tucci & Patricia Clarkson, The Boys Are Back from the director of Shine with Clive Owen as a single dad, Brief Interviews with Hideous Men directed by and starring The Office's John Kraskinski, Pandorum with Dennis Quaid and Ben Foster and other less famous actors bound for horrific onscreen deaths, and the adaptation of the frat boy bestseller I Hope They Serve Beer in Hell.
BONUS SCENES

Michael Moore's Capitalism: A Love Story opened midweek and so far it's doing reasonably good business but not as well as the entertaining crusading documentarian's films usually do. Doesn't it seem like Moore's timing has been a little off recently? Didn't we need Sicko, for example, right now during these infuriating public arguments over health care? And couldn't we have used Capitalism a little earlier before the crash?

Yesterday was the 60th birthday of Pedro Almodóvar (who I like to call by the nickname "World's Greatest Filmmaker". Sorry, all others). He gives actresses such beautiful things to work with and gives audiences such beautiful men to ogle inbetween those landmark actress moments. I trust that you've seen and loved his work. If not, get renting before his next film Broken Embraces (starring Penélope Cruz) arrives in a couple of months.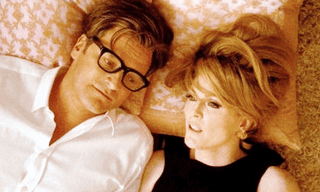 We're in the thick of film festival season, which means you'll be hearing more and more about the films and actors emerging as real threats in the upcoming Oscar race. After a Best Actor win in Venice for the gay drama A Single Man, Colin Firth is already being hyped as the one to beat. It wasn't just the Ang Lee led Venice jury that loved him. Critics at the Toronto Film Festival also went wild for the film and Firth's portrayal of a suddenly single gay man whose lover (Matthew Goode) has died. I guess I should read the classic Christopher Isherwood novel this is based on before the movie arrives in December (courtesy of the Weinstein Co). The film could also give the great Julianne Moore her fifth crack at the naked gold man playing Firth's long time friend who wishes that friendship weren't platonic. Unfortunately, even if she's nominated, she's probably heading for another loss. She'll be entering Deborah Kerr/Glenn Close forever-nominated / forever-denied territory since Mo'Nique's Precious turn is supposedly unbeatable as trophies go. We'll see.

Speaking of awesome redheads who are headed for celluloid immortality… Tilda Swinton, who first came to fame as the 80s muse of iconoclastic gay auteur Derek Jarman and eventually conquered the mainstream with an Oscar win (Michael Clayton) and a blockbuster villainess (Chronicles of Narnia), just keeps expanding her potent cinematic reach. Her next film, I am Love about an aristocratic Italian family was just picked up for distribution and, get this: her role is entirely in Italian and Russian. Is there anything this fashion/film icon can't do?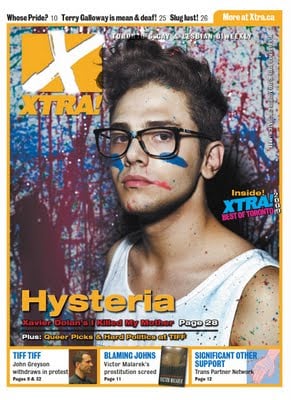 Remember that French-Canadian film about a warring mother and gay son I told you about in one of my first columns? Xavier Dolan is the director, producer, star, and writer. Canada has now submitted his acclaimed film for contention in Oscar's Foreign Language Film category (here's a complete list of submissions so far) so watch out for it. I suspect American distribution will happen in the next six months.
Dolan cribbed from from his own life for this critical breakout, and he's gladly playing gay coverboy in Canadian gay magazines to promote it. What will he ever do for a follow up? He's a gifted and accomplished filmmaker …and he's only 20.
"Baby remember his name. Remember, remember, remember…"