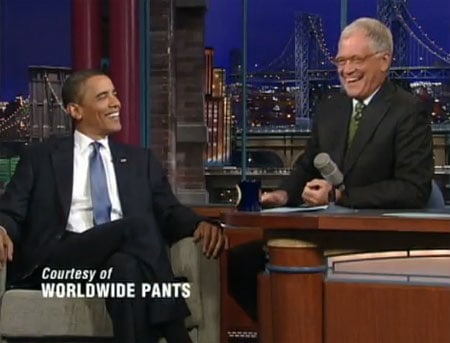 Barack Obama appeared on The Late Show with David Letterman last night, on the eve of his address to the United Nations on climate change.
Said Obama of allegations of racism from the right-wing: "First of all I think it's important to realize that I was actually Black before the election."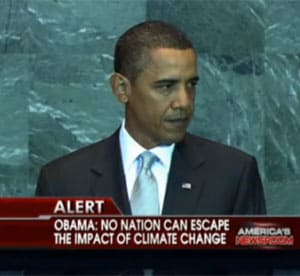 This morning, Obama talked to the UN General Assembly about taking action on climate change:
"We also cannot allow the old divisions that have characterized theclimate debate for so many years to block our progress. Yes, thedeveloped nations that caused much of the damage to our climate overthe last century still have a responsibility to lead. And we willcontinue to do so – by investing in renewable energy, promoting greaterefficiency, and slashing our emissions to reach the targets we set for2020 and our long-term goal for 2050. But those rapidly-growingdeveloping nations that will produce nearly all the growth in globalcarbon emissions in the decades ahead must do their part as well. Someof these nations have already made great strides with the developmentand deployment of clean energy. Still, they will need to commit tostrong measures at home and agree to stand behind those commitmentsjust as the developed nations must stand behind their own. We cannotmeet this challenge unless all the largest emitters of greenhouse gaspollution act together. There is no other way."
Highlights from the Letterman appearance and the UN speech, AFTER THE JUMP…