UPDATE: Burgmeier defeated in special election.
The Iowa Independent reports that a formal complaint has been filed against the National Organization for Marriage in Iowa in response to the group's meddling in state elections: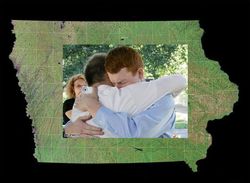 "One Iowa and the Interfaith Alliance of Iowa filed the complaint Monday alleging that NOM, a New Jersey-based group that opposes same-sex marriage, violated Iowa campaign finance law in their Iowa House District 90 campaign. 'NOM has complete disregard of Iowa law as they engage in express advocacy in our state, while refusing to release the identity of their donors, as is legally required in Iowa law,' the complaint said. 'NOM has a history of funneling secret money throughout the country to engage in similar activity.' … 'We request a thorough investigation into their activities, includingdetailed accounting of any and all contributions and their sources, asIowans clearly deserve to know who is funding last minute advertisingto try and influence [Tuesday's] election,' the complaint said."
NOM recently launched the 'Reclaim Iowa' program, attempting to influence key legislative races in favor of candidates who would overturn the state's marriage equality laws.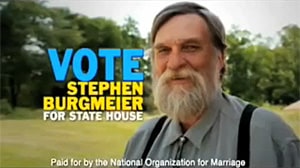 Starting with one candidate in elections today: "An out-of-state group working against gay marriage has spent more moneyon television ads for a Sept. 1 Iowa House race than either candidatehas raised in cash, reports filed Thursday show. DemocraticHouse District 90 candidate Curt Hanson raised $42,882 to compete inthe special election, while GOP candidate Stephen Burgmeier raised$63,101, the reports show. A disclosure report filed by the NewJersey-based National Organization for Marriage, a group that opposesmarriage for same-sex couples, has spent $86,080 on television ads insupport of Burgmeier, according to a report filed Aug. 20."
One Iowa has posted a petition demanding that NOM release the names of those funding their anti-gay campaigns. An Independent Iowa Ethics board has let NOM know that their activities are being monitored.
One Iowa's clip regarding Burgmeier, AFTER THE JUMP…