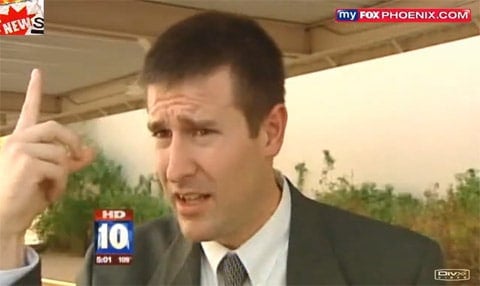 Michelangelo Signorile hosted Obama-hating pastor Steven Anderson on his show yesterday. Anderson also gave an interview to MyFox 10 Phoenix.
Signorile and Anderson discussed the definition of murder. Writes Signorile: "Anderson actually told me that, though he wouldn't encourage it, hewould not condemn any person who killed President Obama or call thatperson a murderer. He does not believe that the man who allegedlykilled Dr. George Tiller, the Kansas doctor who performed late-termabortions, a murderer. And he said he would not call someone who shot agroup of gays and lesbians with a machine gun a murderer."
Finally, Signorile's interview with Anderson ended with the pastor wishing brain cancer on him. Anderson hoped the same for Obama in his interview with FOX.
Watch both, AFTER THE JUMP…
Listen to Signorile's full interview on his blog.
Previously…
Obama-Hating Pastor: Every Homosexual is a Deviant, Evil Predator [tr]
Baptist Preacher to Congregation: 'When I Go To Bed at Night [I] Pray for Barack Obama to Die and Go to Hell' [tr]