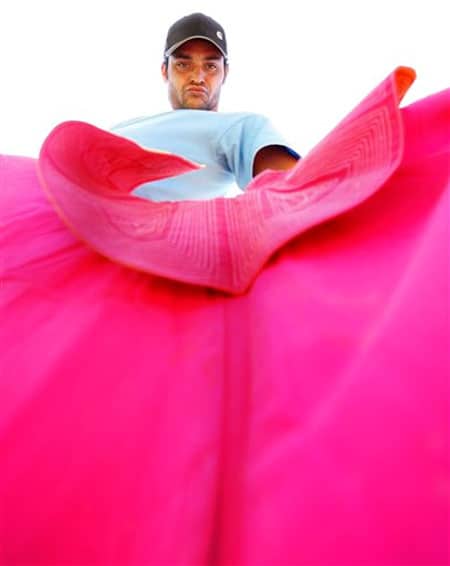 So wrong, in so many ways. Spanish matador Joselito Ortega is about to "gay up" bullfighting, literally.
The AP reports: "Matador Joselito Ortega will be plugging a club-scene energy
beverage called Gay Up and have those words embroidered into his cape
in large, red cursive letters. In Spain, matadors are seen by
many as the pinnacle of macho, and Ortega's agreeing to endorse a
product geared toward gay men is raising eyebrows. But Ortega sees no incompatibility. 'I
am a bullfighter. That is not going to change. I am going to go out
into the ring as I have done until now, to risk my life, and the seven
goring wounds on my body prove that,' he told The AP Wednesday. 'If the
gay community welcomes me as an image or a symbol, that is fine.' Topflight
Spanish bullfighters are celebrities, just like football or movie
stars, and it is common for them to have commercial endorsement gigs
for everything from wine to cars to fancy clothes. But it is almost
unprecedented for them to advertise something while in the arena."
"It is like prostituting the cape," according to bullfighting critic Juan Belmonte.