San Francisco Supervisor Bevan Dufty will file papers with the city's Election Department this morning officially entering him in the city's mayoral race, according to the Bay Area Reporter: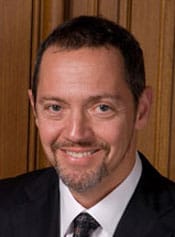 "Dufty, 54, has made no secret of his desire to succeed Mayor
Gavin Newsom, who will be termed out of office in January 2012. Should he be
elected, Dufty would be the first openly gay person to be San Francisco's
mayor…With the race expected to draw a crowded field of
candidates, and his decision to limit political contributions to $200 from
people who either live or work in the city, Dufty said he needed to enter the
race now so he could begin fundraising. He will not accept donations from
lobbyists, corporations, or political action committees."
The SF Chronicle reports: "He's been in politics for two decades, working in Washington, D.C., under two members of Congress, as an aide to former Supervisor Susan Leal, and as Brown's director of neighborhood services.
Dufty's got one feather in his cap already: Steve Hildebrand, deputy national campaign director for President Obama's 2008 run, has signed on as his consultant. Among his campaign's co-chairs are Assemblywoman Fiona Ma and city Treasurer Jose Cisneros."
Cisneros is also godfather to Dufty's 3-year-old daughter, Sidney Maely
Goldfader-Dufty. "He said she would remain his
number one priority while he juggles his duties of being a father, a
supervisor, and candidate for mayor. 'I think any parent has to balance their jobs, their
lives, and the needs of their child. I am confident I can do that,' he
said. "
Dufty Makes SF Mayoral Bid Official [bar]
Dufty Says He's in Mayor's Race [sf chronicle]