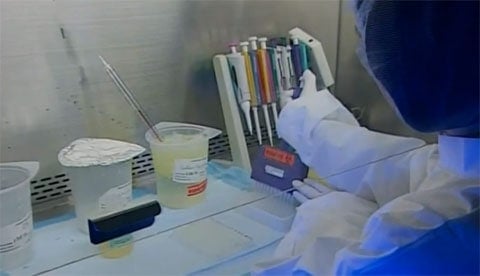 Success with an AIDS vaccine is giving researchers some hope:
"An experiment in Thailand involving 16,000 men and women hasdemonstrated for the first time a small but measurable protectiveeffect of an AIDS vaccine. The vaccine, a complicated mixture of six 'prime' and 'booster'shots, reduced a person's risk of becoming infected by about one-thirdcompared to people getting placebo injections. The results were barely significant on statistical grounds,perplexing for scientific reasons and unanticipated by mostresearchers. Nevertheless, the first positive results for an AIDSvaccine after two decades of experimentation was being called amilestone."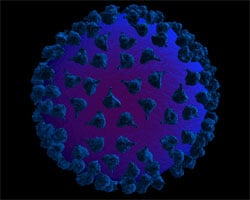 The NYT reports: "Results of the trial of the vaccine, known as RV 144, were releasedat 2 a.m. Eastern time Thursday in Thailand by the partners that ranthe trial, by far the largest of an AIDS vaccine: the United StatesArmy, the Thai Ministry of Public Health, Dr. Fauci's institute, andthe patent-holders in the two parts of the vaccine, Sanofi-Pasteur andGlobal Solutions for Infectious Diseases. Col. Jerome H. Kim, aphysician who is manager of the army's H.I.V. vaccine program, saidhalf the 16,402 volunteers were given six doses of two vaccines in 2006and half were given placebos. They then got regular tests for the AIDSvirus for three years. Of those who got placebos, 74 became infected,while only 51 of those who got the vaccines did. Although thedifference was small, Dr. Kim said it was statistically significant andmeant the vaccine was 31.2 percent effective. Dr. Fauci saidthat scientists would seldom consider licensing a vaccine less than 70or 80 percent effective, but he added, 'If you have a product that'seven a little bit protective, you want to look at the blood samples andfigure out what particular response was effective and direct researchfrom there.'"
Said Mitchell Warren, executive director of AVAC, the AIDS Vaccine Advocacy Coalition: "This is a hugely exciting and, frankly, unexpected result. It changes our thinking in ways we hadn't anticipated. We often talk about whether a vaccine is even possible. This is not the vaccine that ends the epidemic and says, 'O.K., let'smove on to something else.' But it's a fabulous new step that takes usin a new direction."
An ITN video report, AFTER THE JUMP…