Celebration over Uruguay's so-called legalization of gay adoption has been short-lived: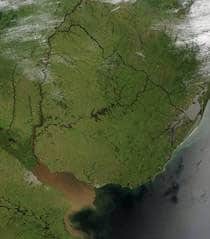 "With the law awaiting President Tabare Vazquez's signature, gay
rights groups have been celebrating the prospect that Uruguay could
become the first country in Latin America to give gay and lesbian
couples the opportunity to adopt. But nowhere in the law does it
specifically say that homosexual couples have a right to adopt. And in
some places, it suggests otherwise — for example by specifying how the
child should take a mother and father's surnames. Lawyers, judges and even the law's own authors now have doubts about how the law will be applied."
"Deputy Margarita Percovich, who wrote the law, acknowledged that it
doesn't directly mention same-sex adoptions, but said it would enable
them because gays and lesbians already can legally form civil unions,
and 'the law enables couples in civil unions to adopt children without
impediment.' But Attorney Juan A. Ramirez, an expert in civil
rights law, told the leading newspaper El Pais that judges still won't
be able to approve same-sex adoptions, because this intent isn't
explicitly described in the law. 'Any objective interpretation of
the law would conclude that either they forgot to mention that gay
couples can adopt, or they didn't want to mention it. They didn't want
to take the bull by the horns and resolve it clearly — they left it
undefined,' he said."
The judges association says it is planning to meet to figure out how to resove the doubts. Stay tuned…