A Malaysian court has thrown out a $30 million lawsuit brought by opposition leader Anwar Ibrahim against former premier Mahathir Mohamad. Ibrahim wanted $30 million because Mohamad said he was gay: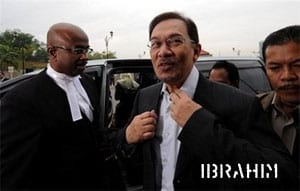 "Anwar served as deputy premier to Mahathir until he was sacked in 1998 and jailed on sodomy and corruption charges. The sex conviction was later overturned and he was released after serving six years in jail.
Anwar lodged the defamation case in 2006 after Mahathir said he could not have allowed his former deputy to become prime minister because he was a homosexual, a comment the lawsuit said was 'false and malicious'.
The case, which was rejected by the High Court in 2007, was thrown out by the Appeals Court Tuesday on technical grounds after Mahathir's lawyers complained the application was lodged in English, and not Bahasa Malaysia.
Anwar's counsel Sankara Nair said the case should not have been dismissed on the grounds of irregularities, which were common and should be easily overcome by the court. 'It should go on the merits of the matter. So that's why we were most disappointed that the court decided to dismiss the matter on technicalities,' he told AFP."