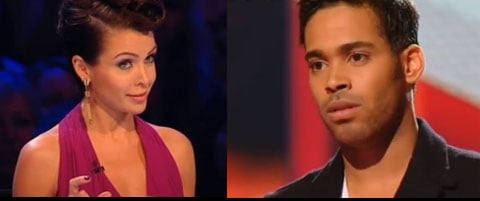 British media watchdog Ofcom has reportedly received nearly 4,000 complaints over an episode of X-Factor during which judge Dannii Minogue brought up contestant Danyl Johnson's sexuality.
In August, the UK Mirror reported that Johnson had told them he is a bisexual "free spirit" who dates women and men.
Minogue's X-Factor remarks came after Johnson's performance of "And I Am Telling You" in which he had changed lyrics in the song from "You're the best man…" to "You're the best girl…". Remarked Minogue to boos from the audience and a shocked "what did you say?" from Simon Cowell: "If we're to believe everything we read in the paper maybe you didn't need to change the gender reference in it."
Cowell slammed Minogue: "You can forget playing any of those games with him. I'm not having that. This guy sang his heart out. Give him some credit."
Since the episode, there have been calls for Minogue to be dumped from the show. Johnson and Cowell have come to Minogue's defense, and the judge has apologized.
Watch the segment, AFTER THE JUMP…