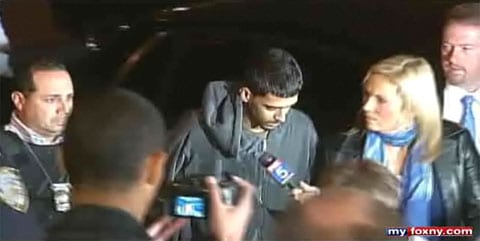 Daniel Rodriguez, the second suspect in last week's savage gay bashing who was arrested in Norfolk, Virginia on Tuesday, was returned to New York City last night.
Watch the video, AFTER THE JUMP…
The suspect's sister, Christina Rodriguez, told the New York Daily News that her brother does not hate gays because he has gay relatives and once had a gay roommate: "If he's guilty of anything, he'll man up to it."
Yesterday, police released disturbing surveillance video of the attack.
The good news is that Jack Price, the 49-year-old victim, has been taken off a respirator and is in stable condition. Price underwent surgery last night.
NOTE from Commenter Nathan James: "There will be a March and rally protesting this horrendous attackon Saturday, in Queens. The March begins at 2PM at College Point Blvd.and 20th Avenue, proceeds past the site of the attack, and culminatesin a Rally at Poppenhausen Playground on 14th Avenue. Take a 7 train toMain Street, then Q65 bus to 20th Ave. I strongly encourage everyone inthe NYC area who can do so, to come out and make a bold statementagainst homophobic violence."