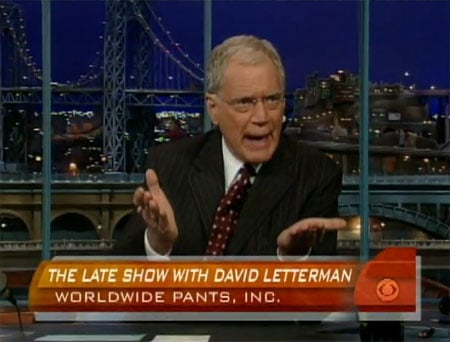 David Letterman stunned his audience (some of whom didn't realize he was being serious) last night when he revealed he had slept with female staffers and was the subject of a $2 million extortion attempt by a CBS News employee.
The extortionist is said to be a 48 Hours staffer Robert Halderman by an AP source: "The person spoke on condition of anonymity because authorities have not released the suspect's name. A '48 Hours' producer named Joe Halderman was part of a teamnominated for an Emmy for outstanding continuing coverage of a newsstory in a news magazine in 2008. Two numbers listed for Halderman weredisconnected, and a message left at a third number was not immediatelyreturned Thursday."
Halderman was busted outside of CBS yesterday. The woman involved with Letterman has also been named.
Watch Letterman's confession and reaction, AFTER THE JUMP…