San Francisco Mayor Gavin Newsom has dropped out of the race for governor of California.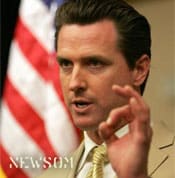 Said Newsom in a statement: "With a young family and responsibilities at city hall, I have found it
impossible to commit the time required to complete this effort the way
it needs to — and should be — done. This is not an easy
decision. But it is one made with the best intentions for my wife, my
daughter, the residents of the city and county of San Francisco, and
California Democrats."
The L.A. Times reports: "The harsh political reality, however, is the real reason is his campaign was getting no statewide traction, even with ex-governor, ex-mayor, current Atty. Gen. Jerry Brown in the political room as the invisible 800-pound donkey. Brown hasn't even announced as a candidate and has raised in excess of $7 million, several times that accumulated by Newsom.
The sudden move — always watch out for Friday afternoons in politics — officially leaves the Democratic field temporarily empty of heavyweights seeking to head the nation's most populous state."