Hope College in Holland, Michigan has barred Milk screenwriter Dustin Lance Black from speaking at a forum on sexuality, according to the school paper, The Anchor: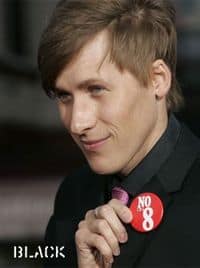 "Hope College's Sexuality Roundtable's request to host Hollywood screenwriter Dustin Lance Black as a speaker on campus has been denied by the college administration. According to the Sexuality Roundtable, Hope cited two reasons for its decision: 'Black's advocacy would be too strong for campus,' and 'Black would 'polarize' the campus.'"
And while Black has been barred from the Sexuality Roundtable, he has been invited to speak at a screenwriting class. Said Dean of Students Richard Frost: "'They have a class that deals with screenwriting, and so there's a natural tie in what he would talk about in terms of the process. That would be an appropriate thing to talk about. For example, if there's a political science class about elections, or politics, or how you do grassroots movement, how you do political organizing, how you do political campaigns, (that) would be a great thing for him to talk about because ('Milk') has parts of those things in it."
Read a PDF of the college paper here.
Added Frost to the Holland Sentinel: "We are willing to do these things, but for the college to do this, we
have to be sure it's educational. It's back-and-forth and
educational. It's not advocacy."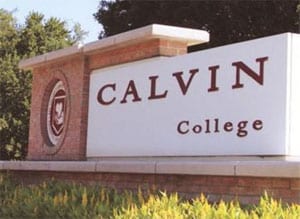 In related news, Calvin College in Grand Rapids, Michigan has decided not to withdraw a controversial memo instructing professors not to "advocate for homosexual issues and same-sex marriage."
The Grand Rapids Press reports: "In a letter issued to the college's faculty Monday, board of trustees chairman Bastian Knoppers said they did not change a policy banning the advocacy of homosexual practices and same-sex marriage.
But trustees said they understand many faculty members thought they did and deeply regret 'confusion and distress that has resulted,' he said…The Faculty Senate voted earlier this month to ask the board to withdraw the memo, saying it stifles academic freedoms that encourage open discussion of social issues between students and professors.
Professors still are digesting Knoppers letter but are pleased the issue will continue to be discussed, Faculty Senate Vice Chair Karin Maag said this morning."