According to a report filed yesterday, it appears that Microsoft has donated $100,000 to efforts to pass Referendum 71 in Washington state, which would retain the "everything but marriage" domestic partner law there.
Slog reports: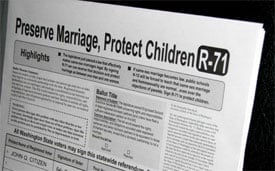 "Microsoft's brazen role in R-71 will outrage the Ken Hutchersons of
the world, who pressured Microsoft for years to back off from
supporting gay-rights legislation. And it could also summon
conservative interests—e.g., the Mormon Church—to dump money in on the
other side. After October 12, state rules block any person or group
from donating more than $5,000 to the campaign. Microsoft's donation is larger than all the contributions combined
for the campaign to reject R-71, called Protect Marriage Washington,
run by a handful of Christian extremists who have reported only $55,217
in contributions."
You may remember back in 2005 when Microsoft quietly withdrew its support of Washington state anti-discrimination HB 1515, and was accused of doing so because of pressure from right-wing religious leader Reverend Ken Hutcherson. In November 2007, Hutcherson appeared to be back for another round,
threatening executives at a shareholders meeting that he
would be their "worst nightmare" if the company continues to support
gay rights. Wonder if we'll hear from him now.