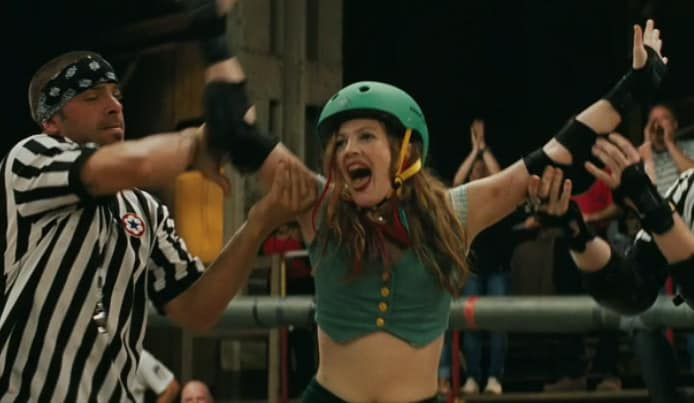 Nathaniel Rogers would live inside a movie theater but for the poor internet reception. He blogs daily at the Film Experience.
YOUR FEATURE PRESENTATION

Whip It is based on a novel about a young girl who joins the roller derby.
Whip It is not based on the classic Devo tune. But still…♫ "Whip It good!"
For her fictional novel turned movie, writer Shauna Cross drew from her own experiences as derby girl "Maggie Mayhem" and imagined what it would have been like to discover this alternative grrrl world as a young woman. So Whip It introduces us to Bliss Cavendar (Ellen Page), a sad eyed highschooler who is eager to get out of BoDeen Texas and into the big city. In this particular case that's Austin, Texas, which just happens to be the spot where roller derby resurrected itself a decade ago. Bliss doesn't share her mom's (Marcia Gay Harden) tenacious dream of beauty pageants. She doesn't even exactly share her best friend's (Alia Shawkat) college plans. Bliss is basically a dreamer without a dream, until a serendipitous sighting of derby girls passing out homemade competition flyers sparks a fire inside of her.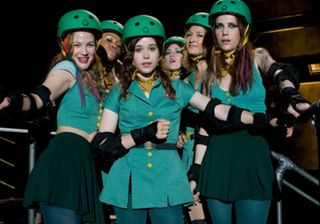 Bliss hungrily learns everything about this new world of self-made skating "stars" like Maggie Mayhem (Kristen Wiig), Smashley Simpson (Drew Barrymore) and undefeated derby champ Iron Maven (Juliette Lewis, time for a comeback!). With their oversized personalities and theatrical names, it's rather easy to view all of this as an elaborate drag competition on skates… only these women are real and they don't trade bitchy barbs so much as elbows to the face.
MORE, AFTER THE JUMP…
It's not particularly surprising that the colorful, campy and action-packed world of  roller derby would be entertaining on the big screen. It's also not surprising that a mother/daughter drama starring two fine actresses would be emotionally satisfying. It is, however, surprising to see Drew Barrymore fuse them together so effortlessly in her directorial debut. Just about the only element of the movie that doesn't work beautifully is the romance between Bliss and a would be rock star named Oliver (it's certainly watchable but I suspect it won't hold up well to a second viewing >>> fast forward!) It distracts from the all girl fun. Why would Drew, who was never so shy about bisexuality back in the day, lean so hard on the girl meets boy subplot when the movie already has so much going on? It's not like there aren't lesbians in the Roller Derby. Just about the only nod to the ladies who love ladies is the smoking hot Eva Destruction (Ari Graynor, previously the comic highlight of Nick and Norah's Infinite Playlist) who has eyes for Rosa Sparks (Eve) and vocally admires Bliss's moves… "Looking good, Barbie!"
Barrymore has been a household name for nearly 30 years and Whip It's story of a young woman coming into her own while the older women around her hold on their moment, proves a great fit for this uniquely famous girlwoman (the actress is 34 now but don't we all still think of her as a young starlet?) There are a lot of reasons to recommend Whip It, but the best is how thoroughly it feels infused with the actress's own star persona, that familiar exuberance and generosity of spirit. Drew is the movie's driving force but she's content to stay mostly behind the wheel(s) here and let four other actresses skate away with the movie. She illuminates Ellen Page's soulful youth, appreciates Marcia Gay Harden's tenacity and maternal concern, tempers all the drama with Kristen Wiig's warmly dry comedy and then spikes the entire party with Juliette Lewis's rock and roll edge. Barrymore knows their strengths and maneuvers them expertly around the rink. She whips it good.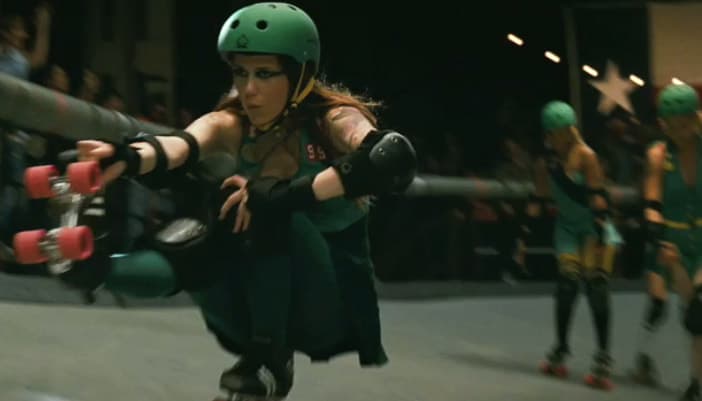 Also Opening (links go to trailers)
Whip It isn't alone. There are five more comedies debuting — Hollywood apparently demands that you laugh this weekend. The Invention of Lying stars Ricky Gervais as the only fibber in a world of truth telling, Zombieland features Woody Harrelson and Jesse Eisenberg slaying the undead for yuks and yuck, Toy Story & Toy Story 2 are now in 3D to prep you for next summers Toy Story 3, and the Coen Bros A Serious Man. If you're in no laughing mood, there's really only last year's festival hit Afterschool, about a young man at a prep school with, uh, upsetting online viewing habits and possibly sociopathic tendencies. Will you be at the movies this weekend?