President Obama yesterday nominated Assistant Minneapolis Police Chief Sharon Lubinski for U.S. Marshal. If she is selected, Lubinski would be the first openly gay U.S. Marshal in the country and one of two active female Marshals of 94 serving across the country, and the first female to serve in Minnesota.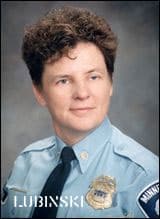 Said Obama: "Assistant Chief Lubinski has dedicated her career to the noble cause of protecting her fellow Americans. She has displayed exceptional courage in the pursuit of justice, and I am honored to nominate her today to continue her selfless work as a U.S. Marshal for the District of Minnesota."
In a press release, the White House noted Lubinski's background: "She has served in the Minneapolis Police Department for 20 years, 10 of those years in command positions. Prior to joining the Minneapolis Police Department, she spent eight years with the Dane County Sheriff's Department in Madison, Wisconsin. She is currently a member of the community faculty at Metropolitan State University School of Criminal Justice. Lubinski earned her Bachelor's degree from the University of Wisconsin-Madison, and a Master's from Hamline University, where she is also currently pursuing a doctoral degree in Public Administration."
Lubinski said she would be honored to serve: "During my 30-year career, I've actively partnered with federal law enforcement agencies in many different capacities," Lubinski said in a statement. "The U.S. Marshal has a uniquely important role as the chief enforcement officer of the federal courts, charged with ensuring the safety and effective functioning of our justice system."