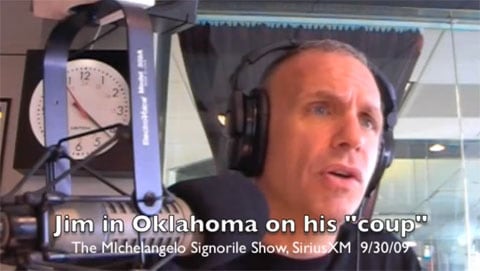 A caller to Michelangelo Signorile's Sirius radio show says he is organizing a military coup with 200 people intended to bring down Obama, rid the country of homosexuals, and bring back slavery.
Says Jim from Oklahoma: "We will make a stand…dead serious. Shit happens in large amounts, and you get large groups of people and make a movement. By numbers we will overtake and get control of this country…It ain't just gonna be 200 people by the time we get up there. We will overthrow the government."
Following Jim's call, Signorile received an emotional call from a woman from San Diego reacting to 'Jim from Oklahoma' who discusses how her mother has been brainwashed by the right-wing.
Watch, AFTER THE JUMP…