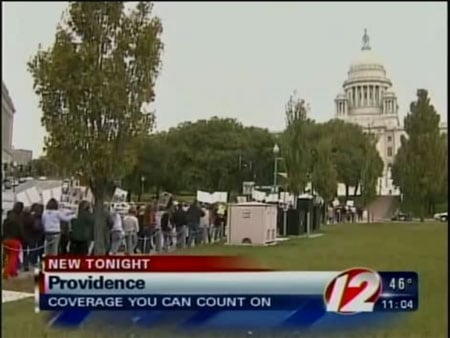 Nearly 200 supporters of same-sex marriage rallied on the steps of the Rhode Island state house in Providence on Saturday, angry that Rhode Island is an actual 'island' in a sea of New England states that have marriage equality or civil union laws on the books.
The Brown Daily Herald reports: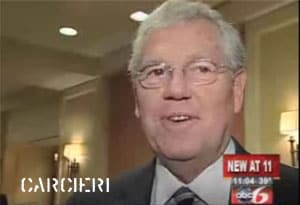 "Among the speakers at the rally was State Sen. Rhoda Perry P'91,D-Dist. 3, who said that because 'all five other sister New Englandstates have mandated that rights and privileges associated with civilmarriage extend to all of their citizens,' Rhode Island too must 'moveon, and ensure that the legal rights to marriage uniformly extend toall its citizens.' Perry, whose district includes College Hill, hasrepeatedly introduced legislation in the General Assembly to legalizesame-sex marriage…Several speakers in the rally denounced Gov. Donald Carcieri '65, whosaid at a Thursday fund-raiser for the Massachusetts Family Institutethat 'gay marriage is not a civil right' and that he gets 'aggravated'when people call it that. On its Web site, the MFI calls homosexuality 'destructive to family, individuals and society' and supports 'thehealing of those plagued by a same-sex attraction.'"
Watch a news report on the rally from WPRI, AFTER THE JUMP…