Andy and I had the chance to sit down and interview United States Senator Kirsten Gillibrand at the LGBT Community Center in New York City on Sunday afternoon. 
Watch the interview, AFTER THE JUMP…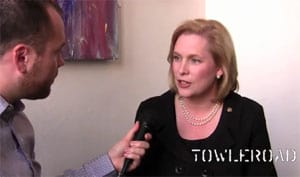 We spoke to the Senator about the legislative road to repealing 'Don't Ask, Don't Tell', critics who have questioned her convictions on LGBT issues, the marriage equality battle in New York State and also if she'd be supportive of amending the 1964 Civil Rights Act to include sexual orientation.
Said the Senator: "I would [be supportive of that]. I truly believe that this gay rights agenda is the civil rights march of our generation. I think marriage equality, I think repealing DOMA, Don't Ask, Don't Tell. All of that work we're doing is part of equal rights in America and it is something that is so important to this generation. I think that kind of bill would be transformational…Whether we have the votes for that kind of bill today, I don't know. But it's something certainly worth fighting for."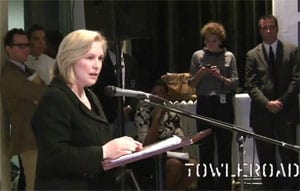 Senator Gillibrand had a small private meeting with gay, lesbian, bisexual and transgender activists from five boroughs before holding a larger event that was open to the general public. Lt. Dan Choi introduced her at the public event and she updated the audience on the current pieces of legislation before the Congress that are of importance to the gay community. She then took questions from the crowd. During the question and answer period she told a few personal anecdotes related to growing up in a political family where her grandmother had a close gay couple as friends and also how during her career as a senior associate at a law firm she had plenty of gay colleagues.
Watch our interview, and a brief video clip from Gillibrand's talk at the center in which she discusses why LGBT rights are important to her, AFTER THE JUMP…
Gillibrand on gay issues and why LGBT rights are important to her: