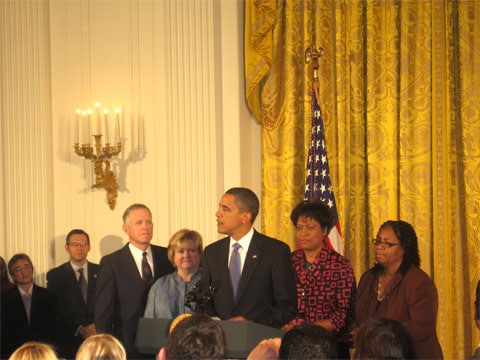 COREY JOHNSON
Yesterday was an historic day for gay, lesbian, bisexual and transgender Americans. The hate crimes measure named in honor of Matthew Shepard and James Byrd Jr. which was signed by President Obama in an early afternoon ceremony yesterday in the East Room at the White House modifies the 1969 federal hate-crime law covering crimes motivated by actual or perceived race, color, religion or national origin, expanding it to cover gender, sexual orientation, gender identity and disability.
This is the first piece of federal legislation signed into law that explicitly covers LGBT citizens. Advocates for this law have been fighting since 1999 to pass the measure but with Republicans controlling Congress from 1995 until 2007 and President Bush, who opposed the measure, holding office until early 2009 — this year was the first opportunity for the stars to align.
Hate crimes protections have had broad support with the American public and before today had existed in a patchwork-form in 45 states and the District of Columbia.
Perhaps members of the House and Senate are now closer to realizing that voting for pro-LGBT pieces of legislation will not be detrimental to their re-election chances and that doing so is the right, fair and just thing to do.
The irony of the signing ceremony, complete with military commanders, members of the House and Senate who oversee military issues, Joint Chiefs of Staff Chairman Michael Mullen and Secretary of Defense Bob Gates, was that it looked more like what you'd envision for the signing of the repeal of Don't Ask, Don't Tell.
Nonetheless, I felt lucky to be able to bear witness as a credentialed member of the media.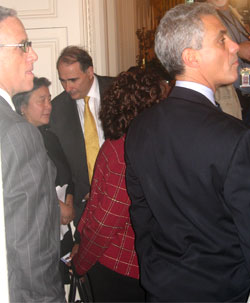 At the David Bohnett Foundation-sponsored reception later, attended by the Shepard and Byrd families, energy was palpable and emotions ran high among advocates who have waited for this moment for a very long time. Approximately 150 activists, movement leaders, donors and openly gay staffers from the administration were in attendance.
A partial list of folks that caught my eye were; Ray Buckley who is the Democratic State Chair in New Hampshire and Vice-Chair of the Democration National Committee, long-time civil rights leader and blogger David Mixner, Richard Socarides from the Clinton White House years, Mara Keisling the head of the National Transgender Center for Equality, one of the grandfathers from our movement — Frank Kameny, Cathy Renna, who works with and helps various local and national gay and lesbian organizations, all three openly gay members of Congress — Barney Frank, Tammy Baldwin and Jared Polis, Elizabeth Birch who was the former executive director of the Human Rights Campaign and current president of the HRC Joe Solmonese, recording artist and ally Cyndi Lauper, Chuck Wolfe who leads the Victory Fund, Fred Hochberg who is the administration's appointee to lead the Export-Import Bank, Melissa Sklarz who co-chairs the National Stonewall Democrats board, the President's appointee to run the Office of Personnel Management John Berry, as well as various other folks. Standing at the back of the room were White House Chief of Staff Rahmn Emanuel and Senior Advisor to the President David Axelrod. Attorney General Eric Holder and Senior Advisor Valerie Jarrett were also present.
Now the question becomes: when will the array of other bills (an inclusive-Employment Non-Discrimination Act, repeal of both Don't Ask-Don't Tell and the Defense of Marriage Act, the Uniting American Families Act) be acted upon by Congress? And will President Obama speak openly and forcefully in letting members of Congress now that these bills are a priority (just like he has on health care reform and climate change) and should be passed?
LGBT citizens need to do their part as well — which means placing phone calls, writing letters, visiting Representatives and Senators offices to let them know that the time is now. Our families, friends and co-workers should do the same.
I came out to my family in March of 1999 and I distinctly remember that six months earlier a young man in Wyoming was brutally murdered because of his sexual orientation. It was an honor to witness history more than a decade later and it was especially gratifying to see all of hard work that Judy Shepard, Dennis Shepard, Betty Byrd Boatner and Louvon Harris' work finally come to fruition.
Yesterday was a meaningful day in the journey for civil rights — but it was only a first step. It's my hope that sooner rather than later President Obama will be signing a similar bill with Chairman Mullen and Secretary Gates standing behind him but we will only get there with his leadership on these crucial issues.