Twelve youths have been arrested so far in the anti-gay assault on 22-year-old police trainee James Parkes outside the Superstar Boudoir nightclub in Liverpool on Sunday:
BBC: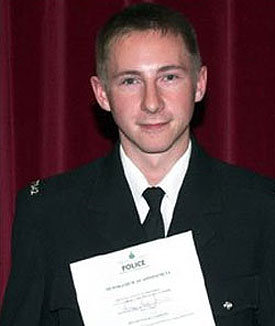 "James Parkes, 22, was assaulted by up to 20 people outside Superstar Boudoir in Stanley Street on Sunday night. He suffered multiple skull fractures and is in a 'critical but stable' condition in hospital, police said. The boys, one aged 13, two aged 15 and two aged 16, were arrested overnight and bailed. Another boy, 15, was arrested earlier. Six others have been bailed. All 12 suspects, who are from Kirkdale, Anfield, Kensington, Fazakerley and Walton, were arrested on suspicion of assault. The 15-year-old is still being questioned by detectives."
Parkes' parents spoke out about the attack: "We want to thank the investigation team for all the work they are
doing to catch the people involved in this vicious attack. We are
really grateful for all the support that James has received since the
attack, particularly from the gay community and the police. James
has worked hard to serve the Merseyside community over the last two
years as a Police Community Support Officer and is very excited to be
at the start of his career as a police officer. We can't
believe the ignorance of the young people who carried out the attack on
someone who was just out on a night out with friends and had done
nothing wrong. We are really keen that the young people involved in the
attack are caught and bought to justice and would ask anyone who knows
anything about the attack to contact the police."
A vigil is to be held at 8 pm on Sunday on Stanley Street where the attack took place. Hundreds are expected to attend.