Until they are nixed again by Kevin Rudd's government, civil partnerships are again legal in Australia's Capital Territory: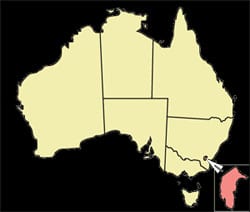 "In a long-running case of legal leapfrog, the Australian Capital Territory legislative assembly yesterday amended its civil partnerships scheme to let same-sex couples hold a legally sanctioned ceremony.
But the decision, moved by the Greens and backed by Labor after its two previous attempts, appeared to put the territory on another collision course with the Federal Government.
Acting federal Attorney-General Brendan O'Connor yesterday signalled no dramatic shift in the federal stance on such laws, which are expected to take effect within weeks.' The passage of these amendments does not change the Rudd Government's clear policy on marriage or about relationship recognition of couples who choose it,' a spokesman said.
ACT Chief Minister Jon Stanhope said he was quietly confident the reform would succeed this time. Senior Federal Government legal figures have had little time to focus on the move, given the asylum seeker controversy."
Similar laws have been put out to pasture before:
"Laws allowing gay marriage in the ACT were repealed after federal
intervention in 2006, and a second stand-off ensued in 2008 over legal
civil union ceremonies for same-sex couples. That was resolved when the
assembly backed down and allowed civil partnerships without an official
ceremony after it became clear another federal intervention was on the
cards. This time, the territory assembly amended its
laws on the advice of two leading Queen's Counsels – including the now
federal Solicitor-General Stephen Gageler – to answer criticism that
the scheme would mirror marriage. The advice
suggests that if civil ceremonies were only open to gay couples, and
not heterosexuals, it would be clearer that it did not contravene the
federal Marriage Act, which by definition only regulates relationships
between a man and a woman."