Austria's government has approved civil partnerships for same-sex couples, Agence France Presse reports: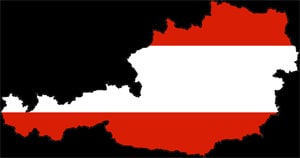 "The compromise, achieved after weeks of wrangling between the ruling Social Democrats and their conservative coalition partner in government, will give gay couples equal rights to heterosexuals with regards to pensions and alimony. Partners will also be able to take each other's name, if they wish. But the new law will continue to ban adoption or artificial insemination for gay couples, said Justice Minister Claudia Bandion-Ortner, who had put forward the draft."
Same-sex couples will also be forced to formalize their relationships at the municipal office or the magistrate's office, and not at the civil registry's office as part of the compromise, after complaints from conservative groups.
The law, once given final approval by parliament, goes into effect on January 1.