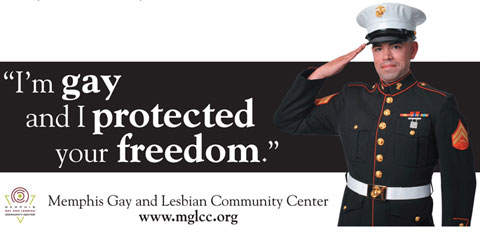 The radical trans/queer anarchist group Bash Back, which was profiled in September's Details magazine, has taken credit for vandalizing the Memphis Gay and Lesbian Community Center's "Coming Out Day" billboard, which featured a gay soldier.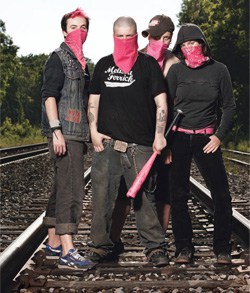 After mocking the rallies held by the gay and lesbian community in Memphis in response, a Bash Back blogger writes:
"I'm here to dispute the claim that this action was an anti-gay act.
First, sending gays to be military fodder is NOT pro-gay or conclusive whatsoever to gay liberation. State militarism only reinforces the dominant structures, and the racism/heterosexism they perpetuate, as well as reducing the number of gay people in the world (both those in Amerikkka and the countries Amerikkka is colonizing/conquering).
Second, we accuse the MGLCC of being flat out racist/anti-queer/anti-trans; and we furiously question how that the Memphis Gay and Lesbian Community Center can squander $3500 on military billboards, when Memphis has the highest trans-murder rate (11 trans women of color, 1 white transwoman and 1 transman of color), as well as one of the highest queer youth homeless rates in the nation, and how they can justify putting a pro-military billboard in the overwhelmingly POC neighborhood of Morris Park, when the poor Black community in Morris Park is disporportionately preyed upon by the military (through the court system's 'prison or military service' rule for minor felonies as well as recruiters' false promises of otherwise impossible economic/education opportunities)?"