Police have arrested Randolph Forde, a teacher at Mundy's Mill High School in Jonesboro, Georgia for allegedly putting a "hit" on a student after an incident in which he asked the student if he was gay, WSBTV reports: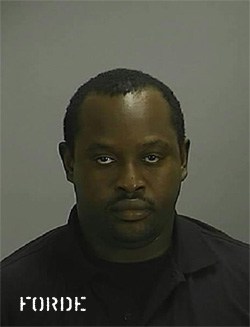 "Forde was charged after, officers said, he held up a piece of paper with the alleged victim's name on it saying he had a hit on him. The student's mother said her son came home frightened when he found out.' He says, 'Ma, you're not going to believe this but Mr. Forde offered another student money to kill me,'' said mother Marcia Killebrew.
Killebrew told Channel 2 Action News reporter Tom Jones that she was shocked when her 16-year-old son told her his substitute math teacher at Mundy's Mill High School was trying to hire a hit man to kill him. 'I was extremely upset. I called the school at that moment,' said Killebrew.
Killebrew's attorney said the incident began when Forde called the student out of the classroom one day. '(Forde) asked him if he was gay,' said attorney Terrance Madden.
Madden said the student became angry at the suggestion and the next day the two had a verbal altercation.
Weeks later, police said, Forde got a Mundy's Mill student off a school bus and told him he had a hit on someone and needed him to take care of it. Officers said the student asked who it was and Forde said he would let him know. 'The teacher held a piece of paper up with the victim's name on it,' said Otis Willis III of the Clayton County Police Department."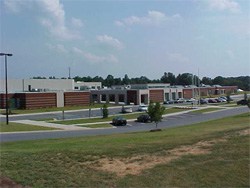 According to the teen's attorney, after questioning the student's sexuality, Forde "threatened to hit him in his 'f-ing mouth." Forde reportedly also planned on paying another student to take out the "hit".
The AJC: "Forde told police he 'had no interaction with the witness or the
victim, and he never made a statement regarding the victim,' according
to the report. Forde's attorney, Borquaye Thomas, said the 16-year-old only complained after he got in trouble for another incident. 'The allegation is he made a hit on him, but that was not what was
said nor what was intended,' Thomas said. 'The student only complained
after he was getting suspended.' Forde asked the student about being gay after he saw the boy dancing
inappropriately with another male student in class, Thomas said. 'All of the students knew Mr. Forde was joking,' Thomas said. 'The
other students said Mr. Forde always plays around with them like that.'"
Forde was reportedly arrested last month, charged with making terrorist threats, and released on $10,000 bond. He is on administrative leave without pay.