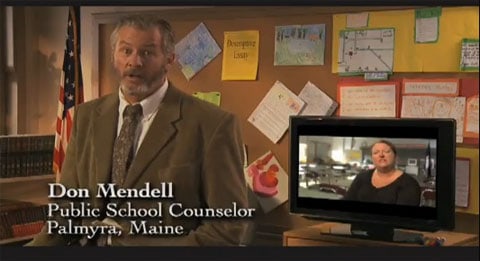 Donald Mendell, a school guidance counselor who helped pass Question 1 in Maine by appearing in an ad that used scare tactics to frighten voters that homosexuality would be taught in schools, wants a complaint against his participation dropped, the Kennebec Journal reports:
"The complaint was filed Oct. 19 by Ann Sullivan, a social worker at Newport Elementary School. She argues that Mendell, a Nokomis High School guidance counselor, 'does not have the right as a licensed social worker to make public comments that can endanger or promote discrimination.'
Public disclosure of the complaint came just a week before the Nov. 3 election, in which voters approved — with 53 percent of the vote — a repeal of a same-sex marriage law enacted by the Legislature.
In a written response sent Friday to the licensing office, Mendell calls Sullivan's complaint 'frivolous' and 'nothing more than an attack by someone who disagrees with the viewpoint I advocated publicly in a statewide political campaign.' He asks the board to summarily dismiss the complaint because its allegations are 'baseless.""
Wrote Mendell: "I cannot be in violation of the ethical standards for social workers when I advocate in favor of the very public policy the state of Maine has on marriage, and has had since its first days in the Union. This board should have no part of this politically-motivated effort to misuse the Code of Ethics to demonize a fellow social worker holding a different view."
Mendell has a history of opposing gays in Maine. He's being represented by the Alliance Defense Fund.