It's true that there are many cracks in the artful construction of Precious. But like its heroine, beautifully played by first time screen actress Gabourey Sidibe, it proves unexpectedly resilient. It never breaks down while walking its risky path. At times out director Lee Daniels doesn't seem able to reign in his most flamboyant impulses — a black and white Italian sequence. Really? — but it's doubtful the film would work as well without Claireece's fantastical escapes from reality which manage to be moving and troubling simultaneously. The segments at school bring the film welcome humor and happiness, but Paula Patton's leans too hard on the saintliness of her lesbian teacher. But on the other hand, teachers who finally do reach students seem like angels to those students, don't they? Mo'Nique's frightening portrayal of an unstable mother is so effectively imagined and shaded that the actress sometimes threaten to dominate even the scenes she isn't in. But why shouldn't she? Claireece has been living under Mary's sickness and oppression all her life, why shouldn't her presence unbalance upset and threaten to topple the entire forward thrust of this character journey?
In a lesser film the parade of misery might also feel exploitative but there are few moments in Precious that aren't thoroughly suffused with the humanity. It's almost as if the movies blood sweat and tears are rushing in to seal up every crack or arguable stumble in the rough telling. Many moviegoers are about to fall hard for Precious's throbbing humanity and hard won optimism. Maybe you will, too.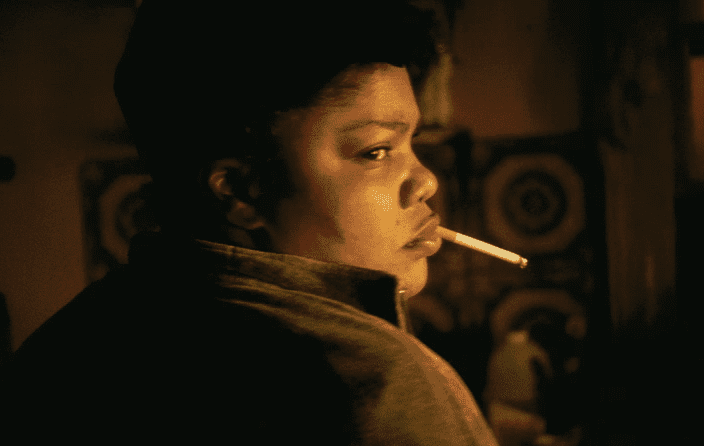 Now we'll have to moodswing like Mary to finish this week's post…

Also Opening: Oscar-seeking Hal Holbrook (recently nominated for Into the Wild) and Ray McKinnon (Deadwood) are both terrific as two men warring over a farm in the well judged indie drama That Evening Sun; Cameron Diaz and James Mardsen must make a high concept movie choice in The Box. Should they press a button that kills a stranger in order to receive one million dollars? The things people will do in movies for a cool million. (Sleeping with Robert Redford for the money seems a lot less morally objectionable. Calling Demi Moore!); Jim Carrey gets Scrooged in the 257,392nd version of A Christmas Carol. How many have you seen? My question is one of medium: Jim Carrey's face is already inhumanly flexible…why does that face need the extra flexibility that animation provides?; The latest scary movie, The Fourth Kind, concerns alien abductions; and The Men Who Stare At Goats gathers a top tier male cast (George Clooney, Ewan McGregor, Jeff Bridges, Kevin Spacey) for some snarky war games… jedi war games.
BONUS SCENES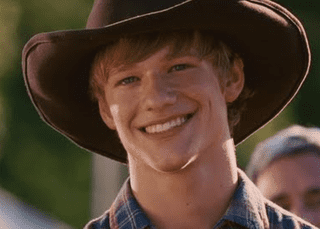 "The Ten Gayest Freeze Frames From the Hannah Montana Movie"… Awww, cowboy twink.

Robert Pattison underwear? You go too far, Twilight. You go too far.

If you're into gay zombies (no judgments!) you can follow Bruce LaBruce's (Hustler White, The Raspberry Reich) wild shooting diaries from the ultra low budget LA Zombie, starring François Sagat, his undead horror/porn follow up to Otto, Or Up With Dead People.

When Pedro Met Penelope. The great director Pedro Almodóvar and Oscar winner Penélope Cruz have been making the rounds promoting Broken Embraces. More on their famous collaborative relationship at the NY Times.

Will Ninja Assassin make Rain, Korea's Justin Timberlake if you will, into a bigger star in the US? Surely he hopes so with those Vegas concerts coming up. 'are you gonna a bad boy / are you gonna be a bad bad boy?'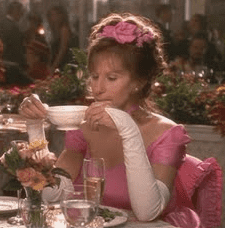 Remember when paparazzi caught Dolph Lundgren nude on the beach this summer? (nsfw) This week the 80s action star turned 52. I celebrated reminiscing about the years when he was always nekked. Like good action stars should be. Ah, Showdown In Little Tokyo.

Do you love bad movies? Thankfully there's lots of so-bad-it's-good appreciations on the internet. While I was in Little Tokyo, Stale Popcorn hilariously skewered Babs's self-aggrandizing fantasy The Mirror Has Two Faces this week. Read it and weep laugh.
You'll probably need to if you've just seen Precious.