While a Rutgers-Eagleton poll released on November 19th showed a majority in New Jersey favor allowing gays and lesbians to marry, a new poll released today by Quinnipiac shows that a majority oppose it.
The Star-Ledger reports: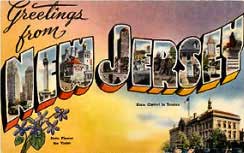 "The poll, conducted between Nov. 17 and Nov. 22, found that 49 percent of adult residents are opposed to giving gay couples the right to marry while 46 percent are in favor of it. Six percent were undecided. A poll conducted by Quinnipiac earlier this year had almost the opposite results — 49 percent of voters supported gay marriage while 43 percent did not. 'When we asked about gay marriage in April, it won narrow approval. Now that it seems closer to a legislative vote, it loses narrowly with the public,' said Maurice Carroll, director of the Quinnipiac University Polling Institute."
Read the poll with more analysis  here.
And here's my post from yesterday about the demonstration that went on this week at the NJ state house before the Senate Judiciary Committee.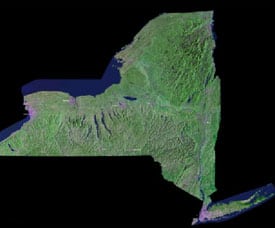 An AP article published today expressed a pessimistic view of the situations in both New York and New Jersey:
"New York is seen as relatively gay-friendly. Court rulings, including one from the state's highest court just last week, have found that gay couples married elsewhere are entitled to some government benefits. New Jersey offers the legal rights afforded married couples, but calls them civil unions, not marriages. Both states have Democratic governors not only willing but eager to sign gay marriage bills.
But now it's not clear if bills will ever get to their desks. There could be national implications if they don't.' If this goes down in both states, it will be seen by both sides as building on the momentum that opponents sort of got coming out of Maine,' said David Masci, a senior researcher at the Pew Forum on Religion and Public Life.
There's a sense of urgency in New Jersey. This month, voters elected Republican Chris Christie over incumbent Democratic Gov. Jon Corzine. Corzine has said he'll sign a gay marriage bill. Christie promised a veto."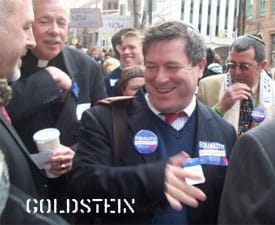 Advocates for marriage equality in both states still believe a vote will occur this year:
"Steven Goldstein, chairman of Garden State Equality, the state's main gay rights organization, acknowledges his side has lost some support in Trenton.
"Was marriage equality in the bag before the election? Nothing in politics is ever in the bag, but we were looking pretty damn excellent," Goldstein said.
Despite the uncertainty, Goldstein says he still expects a vote this year. "Now, we're looking pretty damn good," he said…New York Sen. Thomas Duane, an openly gay lawmaker sponsoring the same-sex marriage bill, said Tuesday he still expects the state Senate to vote on and pass a bill by the end of the year."