Doubt has been cast on the chances of marriage equality being brought for a vote in New Jersey by the time Governor Jon Corzine leaves office at the end of January. State senator Paul Sarlo says he won't vote on the bill in the Senate Judiciary Committee unless he knows the votes are there: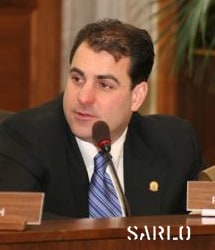 "The Bergen County Democrat said that, currently, the bill does not have sufficient support in the committee for a recommendation to the Senate. 'Today, as I stand here, we do not have the votes in the Judiciary Committee,' Sarlo said after he and Gov.-elect Chris Christie toured the Xanadu entertainment complex under construction in the Meadowlands. 'Until somebody can demonstrate that we have the votes in the Judiciary Committee, it will not be posted.'
Gay rights activists are pushing lawmakers to adopt a bill before Corzine leaves office in January.
Corzine has said he would sign the legislation to allow same-sex unions. But Gov.-elect Christie has said he would veto such a bill.' I'm not going to put people in harm's way where they have to vote 'yes' or 'no' when we don't have the votes to get it out (of committee),' Sarlo said Friday.
The bill must clear the Judiciary Committee before it can be voted on by the Senate. There, Senate President Richard Codey would control whether it is put to a vote. It also must be voted on by the Assembly before it goes to the governor."
Another question: Will Governor-elect Chris Christie insert himself into the process?
New Jersey has been allowing same-sex couple to enter into civil unions since February 2007.