Gay New Hampshire Democratic Party Chair Ray Buckley was called a "faggot" by the host of a well-known New Hampshire right-wing radio show yesterday. NH Political Report via Blue Hampshire:
After his radio show "Meet the New Press" ended today, GraniteGrok.com co-founder Doug Lambert looked into a live web-streaming camera, mockingly wished state Democratic Party Chairman Ray Buckley a Happy Birthday and then called Buckley a "faggot" before basically wishing him dead.

…After co-host Skip Murphy said that he should probably shut off the feed, Lambert looked into the camera and said, "Speaking of gays, Happy Birthday Ray Buckley. Are you going to Holland or taking another trip with your buddies?"

He then dances in a way meant to mock a gay male and says: "Yeah you Faggot. [Pause.] That's right I said it and I meant it. You are reprobate. How the people, the Democrats, I think of some of the gray haired ladies and older people from the old party would stand behind you is beyond me. You are a disgrace to yourself to humanity to mankind and to your party.

"Other than that Happy Birthday Ray and many more — not," Lambert continued before the feed was quickly shut off.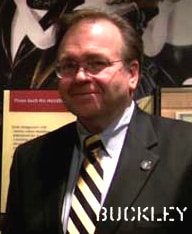 Lambert's remarks were condemned by Rep. Jim Splaine: "Ray Buckley has put up with a lot since he let others know he is gay.
 All of us who are openly gay are at times on the receiving end of such
disgusting comments.  Some of us receive hate mail or calls for what we
do on our fight for equality.  But in this case, Ray and the many
others who have worked hard this year and in years past to achieve
marriage equality in New Hampshire have a louder voice than this
GraniteGrok co-host character.  The majority of people in New Hampshire
are on the side of equality and love, not hate and discrimination."
Lambert apologized soon after the slur, but not before NH-01 Congressman Jeb Bradley (R) and current GOPer NH-Sen explorer Ovide Lamontagne, who were on his show today, distanced themselves. Said Lambert: "To be blunt, what I said is something that never should have been said
in any kind of a public setting, or, quite frankly, in a private one
either. Being human, and an honest person that is used to freely
speaking my mind, my passion got the best of me."