Many people noted that the first promotional one-sheet for Tom Ford's debut film A Single Man (inset), made no reference to the fact that the film is an adaptation of a book written by a gay man (Christopher Isherwood) about a day in the life of a gay man.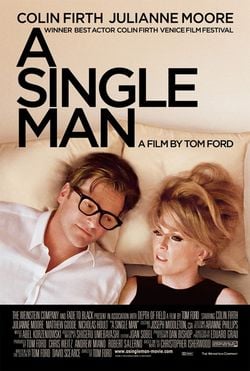 Wrote the Hollywood Reporter, last October: "Published in 1964, the novel centers on a gay man who, after the sudden
death of his partner, is determined to persist in his usual routine,
which is seen in the span of a single, ordinary day in Southern
California."
And the second one-sheet (above), like the first, features Colin Firth and Julianne Moore, and no reference to the gay elements of the film (except for, perhaps, the fact that Firth seems lost in thought – perhaps thinking of something gay?). I've been told that Tom Ford personally had a hand in designing the one-sheet you see above.
The film's trailer had some of the gay elements removed for American audiences.
Ford told guests at a private viewing party Sunday night that the film's not a gay film:
"It's extremely autobiographical. When you watch it, you are inside my head for an hour and a half. I'm fortunate enough to have experienced extreme materialism in my
life, but the point of the film is to remind us of the little things in
life — not some new shoes you bought or a new car. Life's about living in the present. We live in an
artificial world. In the fashion business, you live in the future for
the next collection. But when I spend  time on my ranch in New
Mexico—with the sun above me and the rattlesnakes growing under the
bush—I appreciate the present. I wasn't trying to make Terminator 12. But this is not a gay film. I
don't even think about that. There are so many gay characters on TV
that it's almost become a cliché."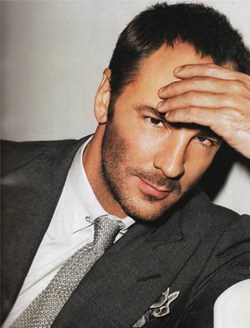 Tom Ford began his recent interview with Kevin Sessums by saying, "I don't think of myself as gay. That doesn't mean that I'm not gay. I just don't define myself by my sexuality."
So, honestly,  if in the film about the gay man we're inside the head of a gay filmmaker who doesn't think of himself as gay, the marketing for the film, which the 'gay-blind' filmmaker helped create, isn't going to be gay either.
Does that make sense? Yes. Is it right? Probably not. Are he and the film gay and has the studio gone out of its way to de-gay promotion for the film? Undoubtedly.
The critic David Ehrenstein wrote about the film in Towleroad's comments section: "I saw it last night and it's absolutely over whelming. I
haven't been as deeply affected by a gay film since Those Who Love Me
Can Take the Train. Like I'm sure many others I thought Tom Ford was
nothing more than a Fashionista. But this is a real film by a real
filmmaker. He understands Isherwood's novel completely. (Don Bachardy
is listed as a creative consultant and he has a cameo turn as well.) Coming at this particular moment the film of A Single Man is a scream
of rage against our "inisvibiliy" insifar (sic) as the Heterosexual
Dictatorship is concerned. Colin Firth has a lock on an Oscar
nomination and perhaps the prize itself."
If the film is a scream of rage against our invisibility, why are the filmmakers and studio once again trying to make gays invisible?

New York magazine tried to clear the issue up with Harvey Weinstein at a screening last night:
Is it difficult to to market a movie about a gay romance?
No, Brokeback Mountain did pretty well. Midnight Cowboy did pretty well. If you know how to market, you can market. There's an audience for it.
The poster seemed to play down the gay part.
I'm good. You got enough. Thank you.
The film opens in limited release in December.