***THE UNDERSTUDY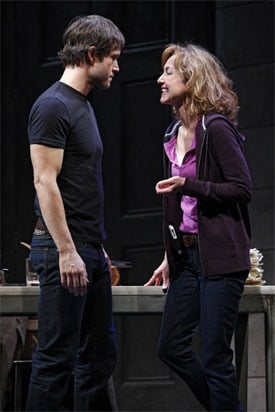 The Roundabout Theatre's The Understudy has been extended until January 16th. Written by the prolific Theresa Rebeck and directed by Scott Ellis, the play concerns an understudy rehearsal for a Kafka play on Broadway. (Talk about suspending disbelief.) The Kafka production stars an unseen major action star and co-stars a lesser one, portrayed by the now hunky Mark-Paul Gosselaar, who will always be known as the blond-tipped heartthrob from Saved by the Bell. He's grown into a studly presence, that's for sure. I'd describe his acting ability as … well … steadfast. He acquits himself well in a part that calls for equal parts earnestness and sex appeal.
His understudy is played by Justin Kirk, who plays the oddly sexy brother-in-law in Weeds. His sex appeal is not as obvious as Gosselaar's but, for that reason, is more potent — at least to me. I call his type nerdy-but-dirty.
As the stage manager, Julie White, who won the Tony for Best Actress for her hilarious portrayal of the agent in The Little Dog Laughed, is again hilarious in this production. The ex-fiance of Kirk's character, she is also touching as her character seems to be running on the fumes of all that ex-fiance anger just below her harried surface.
The play — first produced at The Williamstown Festival two summers ago with Bradley Cooper and Reg Rogers and Kristen Johnson as the cast — is a bit of a mish-mash and seems to need to be put through Rebeck's busy computer one more time between her writing her many Law and Order scripts. But it is ultimately a heartfelt paean to her own love of the theatre and an explanation of why she keeps returning there from the monied confines — confines being the operative word more than monied — of her television world. Indeed, her talent for multitasking and a satirical obviousness that at times mars her work seem to be hinted at in the title of her upcoming novel, Twelve Rooms with a View, which is being published by Random House in 2010.
T T 1/2 (out of 4 possible T's)
The Understudy, Harold and Miriam Steinberg
Center for Theatre,
111 West 46th St, New York. Ticket information here.
***THE ROYAL FAMILY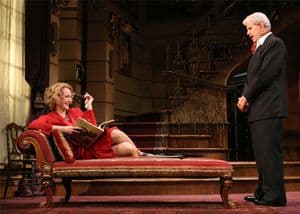 One of the most endearing — and enduring — paeans to the theatre and theatre lovers is The Royal Family by George F. Kaufman and Edna Ferber. The latest production of the play is at Manhattan Theatre Club and is directed by Doug Hughes. It has been extended until December 13th. Written in 1927, it is obviously based on the Barrymore clan though the play's theatrical family is named Cavendish. I first saw a production of the play many years ago which starred the legendary Eva LeGallienne as the play's doyenne, Fanny Cavendish. (For those of you unaware of LeGallienne, look her up. She was one of our first openly lesbian actresses — indeed, there have been only a few such divinely brave creatures since her heyday in the 1920s and '30s and '40s.) Rosemary Harris played her daughter, Julie, in that production. Harris now embodies Fanny in this production whose love of the theatrical art burns still inside her so that she glows with the embers of such love. Jan Maxwell plays Julie now and steals the second act of this three act warhorse of a play with her histrionics. Once you get through the exposition heavy first act, the rest of the play is easy sledding. But I'd suggest you be a devout theatre lover to board the sled to begin with.
T T 1/2 (out of 4 possible T's)
The Royal Family, Manhattan Theatre Club, Samuel J. Friedman Theatre,
261 West 47th Street, New York. Ticket information here.
Recently reviewed…
On the Stage:
Let Me Down Easy, Wishful Drinking, A Steady Rain, and Hamlet [tr]