UK tab News of the World reports that Rocky Bennett, a gay 21-year-old, approached Prince Harry at a nightclub earlier this week, and offered him a kiss for a beer.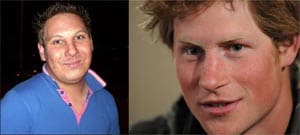 Said Bennett:: "I went up to him and told him I would love to buy him a drink – if he gave me a kiss…Harry just burst out laughing, threw his arms around me and kissed me on the left cheek. I'm not going to wash my face for a month now! It was the best moment of my life. I just burst into tears, he's so down to earth. It was so crazy to see Harry out in Stevenage. It's not exactly the most exotic place. He went upstairs to the VIP lounge at first but then came down to the main bar. He was with about eight other guys and security was tight but when I went over to him he was lovely. I told him how much I had admired his mother Princess Diana and how I thought she would be proud of him. He seemed very merry but he was still willing to talk to people. So I went to the bar to buy him a drink and got my kiss."
Should have offered him a six pack.